ECOtality is the First in the Industry to Reach This Milestone
SAN FRANCISCO, Oct. 3, 2012 -- ECOtality, Inc.

(Nasdaq:ECTY), a leader in clean electric transportation and storage
technologies, announced today it has surpassed one million EV residential
charge events on its Blink Chargers. ECOtality is the first in the industry
to reach this milestone.
"Through the data recorded on Blink chargers for The EV Project, we have
clearly demonstrated the viability of this marketplace and continued growth
of EV's across the nation," said Ravi Brar, CEO of ECOtality, Inc.
"Recording more than 1 million charge events is not only an iconic milestone
for ECOtality, The EV Project and the industry, but is also proof that EVs
are here to stay."
Blink has also achieved another key milestone - 40 million miles of driver
data recorded, and over 1.70 million gallons of gas saved. This number is up
from the 880,000 charge events reported in the 2nd Quarter data ending June
30, 2012. Data collected through The EV Project is presented on a quarterly
basis and can be found here:
http://www.theevproject.com/documents.php.
ECOtality is the project manager of The EV Project, a research initiative to
help build America's future EV infrastructure. To date, The EV Project has
gathered more than 40 million miles of EV driver data that will serve to
support the deployment of EVs in key markets.
The project is a public-private partnership, funded in part by the U.S.
Department of Energy through a federal stimulus grant and made possible by
the American Recovery and Reinvestment Act (ARRA). For more information
about The EV Project, please visit www.theevproject.com
About ECOtality, Inc.
ECOtality, Inc. (Nasdaq:ECTY), headquartered in San Francisco, California,
is a leader in clean electric transportation and storage technologies.
Through innovation, acquisitions, and strategic partnerships, ECOtality
accelerates the market applicability of advanced electric technologies to
replace carbon-based fuels. For more information about ECOtality, Inc.,
please visit www.ecotality.com.
Featured Product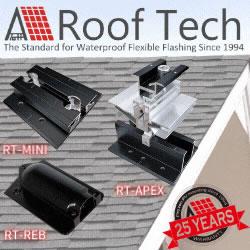 Now Roof Tech brings you the most innovative, watertight mounting systems ever developed for solar photovoltaic systems. Designed and manufactured exclusively for us by Japan's longtime leader in roofing technologies, Roof Tech products are 100% code-compliant and offer fast, simple installation and huge savings on shipping costs due to their compact, rail-less design. Learn more about our full line of versatile PV mounting solutions now available for residential installations. The next generation in rooftop solar mounting solutions."