Gala event held on first day of renewable energy show
5 October, 2012 - London: Hosted at microgen 2012, the Micropower Council

Awards 2012 will reward the achievements of organisations and individuals
that have delivered an exceptional impact to the microgeneration industry.
Over 100 VIP guests will attend the invite-only black-tie awards gala
dinner.
Sponsored by EDF Energy, the competition includes categories such as
Consumer Awareness Campaign of the Year, Innovation of the Year, Installer
of the Year, Manufacturer of the Year, Microgen Champion of the Year
(individuals), Residential Project of the Year, Connecting Communities Award
and Political Leadership Award.
Tom Higgins, Communications Manager, Micropower Council, commented:
"With its diverse range of categories and high level of participation, the
Micropower Council Awards are a unique way of celebrating industry successes
over the past year."
microgen, a show serving small-scale (sub-50kW) power producers, is
co-located with the UK's largest bioenergy show ebec. Both shows are part of
nextgen, which has become the UK's fastest growing event showcasing emerging
renewable energy technologies held at Stoneleigh Park, Warwickshire between
10-11 October. Last year, the event attracted over 3,000 visitors and 200
exhibitors.
Lucy Pitt, group marketing manager of Nextgen Media, said: "We are looking
forward to hosting the Micropower Council Awards at microgen.
It is fantastic that we are able to celebrate such innovation within the
industry at our event."
"The calibre of the finalists shortlisted this year reflects the innovative
and excellence delivered by individuals, businesses and local authorities
across the UK," added Tom Higgins.
Visit http://bit.ly/RB66n0 for shortlist of finalists.
About nextgen
Showcasing the future of energy generation, nextgen is the UK's fastest
growing event showcasing emerging renewable energy technologies. The event,
co-located with ebec and microgen, will be held on 10-11 October
2012 at Stoneleigh Park, Warwickshire. ebec is the largest dedicated
bioenergy expo in the UK while microgen focuses on small-scale
micro-renewable technologies (sub-50kW). Besides hosting a major
international exhibition, the two-day event includes a free conference
programme which offers delegates the chance to debate, learn and network
with industry peers. nextgen is supported exclusively by the industry's
leading trade associations - the Renewable Energy Association (REA), the
Microgeneration Certification Scheme (MCS), the Micropower Council and the
Solar Trade Association. For more information, please visit
http://www.nextgenexpo.co.uk
Featured Product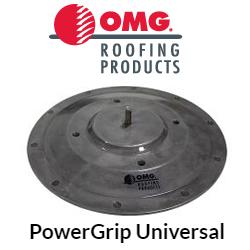 PowerGrip Plus Roof Mount System, a watertight structural attachment system used to secure ballasted solar racks and other equipment to roofs covered with thermoplastic (TPO and PVC) membranes. PowerGrip Plus is designed with wind performance in mind and offers ultimate tensile strength of 2,000 lbf. and ultimate shear strength of 1,075 lbf. Properly installed PowerGrip Plus units reduce rack movement and remaining watertight. PowerGrip Plus units are easy to install, saving both time and labor when compared to alternative options. A wide membrane skirt promotes easy welding in place, and the 15/8 diameter and 1/2 inch tall mount provides an optimal perch for securing brackets or struts. The exposed 1 inch tall and 3/8 inch diameter bolt and mounting stand are made from corrosion-resistant stainless steel and aluminum alloy for superior long-term performance.