Company now producing power cable wire with demonstrated performance up to 200 Amps----- Lowered pricing expected to expand addressable market
Portland, OR – October 8, 2012 – AMSC (NASDAQ: AMSC), a global solutions provider serving wind and grid leaders, today introduced a new class of Amperium® superconductor wire for power cable applications with industry-leading performance, pricing and production capacity at the Applied Superconductivity Conference (ASC 2012). This breakthrough is expected to enable lower cost superconductor power cables and expand the global addressable market for these systems.

AMSC is now offering brass-laminated 4.4 mm Amperium wire with demonstrated current carrying performance up to 200 amps. This is considered industry-leading performance for high-volume second generation (2G) high temperature superconductor (HTS) wire and compares with AMSC's existing line of 70-100 amp wires. Similar to AMSC's existing Amperium product line, the new wire has leading electrical, mechanical and thermal properties.
Along with this substantial increase in performance, AMSC also has announced that the kiloamp-meter pricing of this new brass-laminated wire has been substantially reduced compared with AMSC's existing Amperium product line. This, in turn, is expected to lead to a reduction in the cost of superconductor power cables while also expanding the global addressable market for these systems.
"We believe increasing wire performance and reducing pricing can serve as catalysts for superconductor cable adoption," said Jean-Maxime Saugrain, Corporate Vice President Technical at Nexans, a worldwide expert in the cable industry. "With years of successful superconductor cable demonstrations and in-grid experience behind us, we look forward to continuing our close collaboration with AMSC to grow our superconductors business and maximize global market penetration."
Superconductor power cable systems can conduct up to 10 times the amount of power of conventional cables made with copper wire. When placed strategically in urban power grids, superconductor power cables deliver more power than conventional cables in the same right-of-way to mitigate grid congestion or can be used to replace overhead lines. These types of cables are currently in the early stages of adoption, with initial in-grid installations in China, Japan, South Korea, Germany and the United States.
"This is an advance of tremendous importance for AMSC, its customers and the industry in general," said AMSC President and Chief Executive Officer Daniel P. McGahn. "By improving our wire performance, significantly reducing volume pricing and maintaining our industry-leading production capacity, we are positioning our products to fulfill the promise of HTS. I would like to publicly extend my thanks and congratulations to our Massachusetts team for extending AMSC's global leadership."
Visit AMSC at Applied Superconductivity Conference
AMSC will be showcasing its new class of Amperium wire at the Applied Superconductivity Conference, taking place October 8-12 in Portland, Oregon. Please visit the company at Booth #7.
About AMSC (NASDAQ: AMSC)
AMSC generates the ideas, technologies and solutions that meet the world's demand for smarter, cleaner … better energy. Through its Windtec™ Solutions, AMSC provides wind turbine electronic controls and systems, designs and engineering services that reduce the cost of wind energy. Through its Gridtec™ Solutions, AMSC provides the engineering planning services and advanced grid systems that optimize network reliability, efficiency and performance. The company's solutions are now powering gigawatts of renewable energy globally and enhancing the performance and reliability of power networks in more than a dozen countries. Founded in 1987, AMSC is headquartered near Boston, Massachusetts with operations in Asia, Australia, Europe and North America. For more information, please visit www.amsc.com.
Featured Product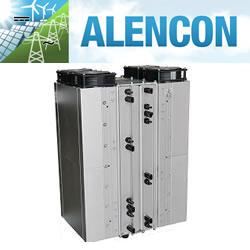 Alencon Systems is the premier manufacturer of high power, high voltage DC:DC optimizers for alternative energy applications including solar, battery energy storage, Microgrids, Fuel Cells and Electric Vehicle charging. Alencon's DC:DC converter offerings include the SPOT, BOSS and CUBE series DC:DC converters. The SPOT is a modular, uni-directional DC:DC solution ideal for solar applications. The BOSS is a modular, bi-directional unit for use with battery energy storage. The CUBE is a monolithic DC:DC converter which is available in both uni-directional and bi-directional modalities. Pictured above, is the Alencon SPOT.