Installed and operated by NRG Energy of Princeton, NJ the stadium is another example showcasing the capabilities of the U.S. manufacturer and integrator located in upstate New York with offices in the Midwest and California.
Poughkeepsie, NY, October 8, 2012: New York solar manufacturer Atlantis Energy Systems Inc. (AES) announced its role today in supplying the custom building integrated photovoltaic (BIPV) modules that form the perimeter canopy of the MetLife stadium in New Jersey. The owner of the solar array NRG Energy and the Meadowlands Stadium Company have brought an aesthetic to the stadium canopy that not only harvests sustainable solar power, but also creates the NRG Solar Ring. This custom solar power generating system brings a dramatic visual element to the stadium experience – ringing the top of the stadium with an integrated LED light system. The ring itself has the ability to display team colors and an infinite array of hues. The end result is a unique visual presentation, especially appropriate for the only stadium in the NFL that is home for two teams – the New York Giants and New York Jets. The NRG Solar Ring changes the color that is appropriate for each event, for example team colors of either the NY Giants or Jets.

The custom BIPV system consists of 1,350 individual modules manufactured by AES, and is able to generate 25 times the amount of electricity needed to power the integrated LED lighting and display system. The modules have been assembled into 47 panels that were raised to the top level of the stadium and bolted into a steel superstructure that is cantilevered over top level seating.
"Atlantis Energy Systems Inc. is proud to have been chosen to manufacture the modules for this project", says Joe Morrissey, Atlantis Energy's VP for Sales. "It is a world class project and it had pushed us to our limits at our production facility in Poughkeepsie, New York." The 6 month manufacturing process took the AES teams working 24 hours a day to meet the production schedule. Frank Pao, the company's President, said, "We are so proud of what our plant has done to
realize this project and we are already working on other custom building integrated photovoltaic modules as well as our off-the-shelf solar PV products"
Featured Product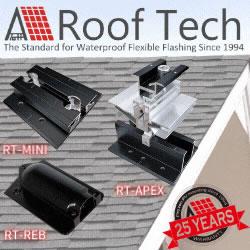 Now Roof Tech brings you the most innovative, watertight mounting systems ever developed for solar photovoltaic systems. Designed and manufactured exclusively for us by Japan's longtime leader in roofing technologies, Roof Tech products are 100% code-compliant and offer fast, simple installation and huge savings on shipping costs due to their compact, rail-less design. Learn more about our full line of versatile PV mounting solutions now available for residential installations. The next generation in rooftop solar mounting solutions."