Facilities in Cleveland, Twinsburg and Avon Bring Number of Cleveland Clinic Buildings to Receive Certification to Ten
Monday, Oct. 8, 2012, Cleveland, Ohio: Cleveland Clinic announced today that four of its facilities have earned LEED® certification from the U.S. Green Building Council. The Pathology & Laboratory Medicine Institute building and Twinsburg Family Health and Surgery Center both earned LEED-NCv2.2 Gold Certification, and the Richard E. Jacobs Health Center in Avon and Stephanie Tubbs Jones Health Center in East Cleveland earned LEED-NCv2.2 Silver Certification.

The projects earned these designations because of their environmentally responsible design and efficient operating systems. LEED (Leadership in Energy and Environmental Design) is a third-party certification program and the nationally accepted benchmark for the design, construction and operation of high-performance green buildings. High-performance buildings conserve energy and water, save money, reduce greenhouse gas emissions and contribute to a healthier environment for residents, workers and the larger community.
"Cleveland Clinic is committed to designing and building safe, efficient buildings using the U.S. Green Building Council's LEED system and evidence-based design, which results in healthier environments in which to work and heal," said Christina Vernon, AIA, LEED AP BD+C, Executive Sustainability Officer, for Cleveland Clinic's Office for a Healthy Environment.
The Pathology and Laboratory Medicine Institute building opened in January and houses one of the largest volume hospital laboratories in the country. The 136,000-square-foot three-story glass-clad building was designed to be an energy-efficient, state-of-the-art laboratory with improved sample handling, inventory, and operational work flows. The building achieved LEED certification for maximized natural light, energy efficient LED lighting, a green roof, and improved water run off, as well as incorporating various other sustainable strategies.
Cleveland Clinic's Twinsburg Family Health and Surgery Center opened in July 2011. The new 190,000-square-foot center is Cleveland Clinic's first family health center with a 24-hour emergency department and helipad. More than 54 specialty care services are provided at the center, including everything from allergy specialists to vascular surgeons.
Twinsburg received LEED-NCv2.2 Gold certification in May because of its environmentally-friendly features, use of regionally sourced materials with recycled content, superior indoor air quality, and preservation of surrounding wetlands.
The Richard E. Jacobs Health Center in Avon received LEED-NCv2.2 Silver certification last month. The 190,000-square-foot center opened in December 2011 providing primary care, more than 30 specialty services, a pharmacy, on-site laboratory and a large physical therapy area with two aquatic therapy pools. The Avon center's 24-hour emergency department opened in September.
The Richard E. Jacobs Health Center was recognized for its water efficiency, indoor air quality, minimization of site disturbance, the purchase of regionally manufactured materials and recycled content, as well as an overall energy cost reduction of nearly 15 percent.
Cleveland Clinic's Stephanie Tubbs Jones Health Center opened in October 2011. The 50,000-square-foot center provides access to more than 25 healthcare specialties while meeting the needs of patients who require chronic disease management as well as primary, preventative and wellness care.
The Stephanie Tubbs Jones Health Center earned LEED-NCv2.2 Silver Certification for being designed to support the local community and ecosystem, water efficiency, advanced controls and sophisticated energy modeling to ensure that the building's energy use is minimized and optimized, environmentally-friendly materials and resources, indoor environmental quality and innovation in design.
Cleveland Clinic's health system features six other LEED-certified buildings and projects including the Global Cardiovascular Innovation Center, the East 89th Street Service Center and Garage, the JJ North office building, Cleveland Clinic Florida Meridian Phase II, the Strongsville Radiation Oncology Expansion Project, and Hillcrest Hospital's Jane and Lee Seidman Tower.
Cleveland Clinic is a member of the U.S. Green Building Council and Practice Greenhealth and is a U.S. EPA ENERGY STAR Partner. Cleveland Clinic was named an ENERGY STAR Partner of the Year in 2011 and 2012, and has been awarded over 75 Practice Greenhealth Awards since 2008, including its top level award, the Environmental Leadership Award for the Main Campus in 2010, 2011 and 2012. For more information on Cleveland Clinic's energy conservation and sustainability efforts, visit Cleveland Clinic's Office for a Healthy Environment.
About Cleveland Clinic
Cleveland Clinic is a nonprofit multispecialty academic medical center that integrates clinical and hospital care with research and education. Located in Cleveland, Ohio, it was founded in 1921 by four renowned physicians with a vision of providing outstanding patient care based upon the principles of cooperation, compassion and innovation. Cleveland Clinic has pioneered many medical breakthroughs, including coronary artery bypass surgery and the first face transplant in the United States. U.S.News & World Report consistently names Cleveland Clinic as one of the nation's best hospitals in its annual "America's Best Hospitals" survey. About 2,800 full-time salaried physicians and researchers and 11,000 nurses represent 120 medical specialties and subspecialties. Cleveland Clinic Health System includes a main campus near downtown Cleveland, eight community hospitals and 18 Family Health Centers in Northeast Ohio, Cleveland Clinic Florida, the Lou Ruvo Center for Brain Health in Las Vegas, Cleveland Clinic Canada, and opening in 2013, Cleveland Clinic Abu Dhabi. In 2010, there were 4 million visits throughout the Cleveland Clinic health system and 167,000 hospital admissions. Patients came for treatment from every state and from more than 100 countries. Visit us at www.clevelandclinic.org
Featured Product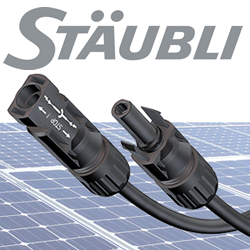 ​Stäubli Electrical Connectors are used on more than 300 GW, over 50% of the PV capacity worldwide. The MC4 family of UL and TUV listed products include connectors, in-line fuses, branch connectors, cable assembly and more.