Global PV experts are set to create a robust strategy to drive down LCOE in San Jose on 17-18 October
The Utility Scale PV Plant Optimization Summit USA is only one week away, taking place on 17-18 October at the Airport Holiday Inn, San Jose, and over 150 of PVs most influential figures, innovators and hands-on experts have now confirmed to attend.

The event will bring together key stakeholders and the most experienced international experts to discuss the key roadblocks the PV industry is facing to drive down LCOE, looking at plant design and construction, component selection, grid integration and long-term O&M strategies.
The technical challenges faced during the development of current projects will form a critical part of the discussion with First Solar, SunPower, NRG Energy, Solar Reserve and Gestamp Solar all confirmed to participate. Each developer will share their expertise on how to improve utility scale plant performance, referencing and providing data for large-scale projects either under construction or operating in the United States.
Organizers PV Insider have also confirmed that leading utilities including San Francisco Water, Power, Sewer (SFPUC), Tucson Energy Power, Colorado Springs Utilities, SMUD and Imperial Irrigation District will be on hand to outline how utilities can work with plant owners to improve power supply reliability and maximize output.
The confirmed list of participants is now online and can be found on the event website at: http://www.pv-insider.com/optimizationusa/attendees.php
Or for more details about this event contact Jack Ahearne on the details below:
Jack Ahearne
jack@pv-insider.com
+44 (0) 20 7375 7556
Featured Product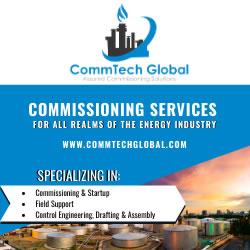 CommTech Global Solutions, LLC, provides professional and reliable commissioning services to customers in all realms of the energy industry. We blend our skills in engineering and technology with innovative business models, offering a complete range of services to assist you for a successful and in compliance operational startup. Consolidation of all our service domains gives our clients a comprehensive set of expertise and far-reaching experience on each project.