Buffalo Dunes Wind Project in Rural Kansas is the Second TradeWind Energy Project that Provides for the Delivery of Low-cost Energy to Alabama
Lenexa, Kan. (October 10, 2012) –TradeWind Energy, LLC and Alabama Power Company have entered into a long-term energy purchase agreement that provides for the delivery of low-cost electricity from wind-rich Kansas across five states to communities in Alabama.

The 20-year power purchase agreement between TradeWind Energy and Alabama Power for 202 MW and all associated renewable energy credits (RECs) was approved by the Alabama Public Service Commission on September 17, 2012. TradeWind Energy's plan allows flexibility for construction of a wind project between 200 and 300 MW. The Project will be constructed across approximately 42,000 acres and hosted by over 120 landowners in Grant, Haskell and Finney Counties in Kansas. Under the agreement, Alabama Power has the flexibility to use the electricity from the wind project to serve its customers and retire the RECs, or it can sell the electricity and the RECs, together or separately, to third parties.
The Buffalo Dunes Wind Project will represent an approximately $300 million investment resulting in significant economic benefit to the state of Kansas and it will help to stabilize and lower energy costs over the life of the contract for customers on the other end of the line in Alabama. An estimated 150 new jobs will be created during the construction phase of the project with the fully operational project requiring about15 new full-time workers. Commercial operation is anticipated in December 2013.
The Buffalo Dunes project represents another example of the potential for continued growth of Midwest wind resources to serve the needs of power customers in the eastern United States.
"TradeWind is so pleased to be building a second large project for Alabama Power," said Frank Costanza, TradeWind Executive Vice President Business Development. "We want to commend the leadership of Alabama Power for its continued commitment to alternative sources of power that can provide direct economic benefit to its customers."
"Our agreement with Buffalo Dunes Wind Project is great for our customers, in multiple ways," said John Kelley, Alabama Power's director of Forecasting and Resource Planning. "It will deliver to us cost-effective electricity and helps further diversify our energy portfolio. What's more, it provides us renewable energy credits that we have the option of using ourselves or selling to others, with the proceeds benefiting our customers."
This is the third project developed by TradeWind Energy that will deliver energy from the Midwest into the Southeastern United States.
In total, over the past 18 months TradeWind has entered long term power purchase agreements that will lead to the construction of four wind projects in Kansas and Oklahoma that combined will deliver about 800 MW of energy to utility customers in the 10 states served by Alabama Power, Tennessee Valley Authority and Western Farmers Electric Cooperative.
ABOUT TRADEWIND ENERGY
TradeWind Energy, LLC, is one of the largest independent wind project development companies in the U.S. Founded in 2003, the Lenexa, Kansas based company partners with local utilities, cooperatives, environmental groups, municipalities and landowner's to develop mutually beneficial wind energy projects. TradeWind Energy takes great pride in its ability to deliver low-cost wind energy while maintaining an uncompromising commitment to long-term project quality. The company is actively developing 3,500 MW of clean, renewable energy in 9 states throughout the central United States, and by the end of 2013 it plans to have completed construction of over 1,000 MW of wind projects, enough to power over 300,000 US households. For more information, visit www.tradewindenergy.com.
ABOUT ALABAMA POWER COMPANY
Alabama Power, a subsidiary of Atlanta-based Southern Company (NYSE:SO), provides reliable, affordable electricity to more than 1.4 million customers in the southern two-thirds of the state. To learn more, visit www.alabamapower.com.
Featured Product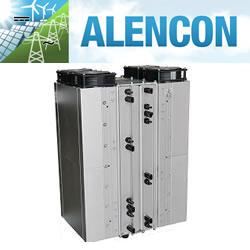 Alencon Systems is the premier manufacturer of high power, high voltage DC:DC optimizers for alternative energy applications including solar, battery energy storage, Microgrids, Fuel Cells and Electric Vehicle charging. Alencon's DC:DC converter offerings include the SPOT, BOSS and CUBE series DC:DC converters. The SPOT is a modular, uni-directional DC:DC solution ideal for solar applications. The BOSS is a modular, bi-directional unit for use with battery energy storage. The CUBE is a monolithic DC:DC converter which is available in both uni-directional and bi-directional modalities. Pictured above, is the Alencon SPOT.