SGS is pleased to announce its participation at RenewableUK - the premier renewable energy conference and exhibition in the United Kingdom.
RenewableUK boasts the distinction as one of the foremost renewable energy conferences and exhibitions. Over three hundred companies active in the wind, wave and tidal energy sectors are scheduled to be on display at the RenewableUK flagship event. With so many diverse exhibitors presenting under one roof, RenewableUK 2012 is the perfect venue for anyone interested in the development and latest trends affecting the renewable energy sector in the UK and beyond.

SGS Presents its Service Portfolio at Stand 107
The three-day RenewableUK conference provides SGS an exciting opportunity to present its portfolio of renewable energy services, which include in-service and end of warranty inspections, technical due diligence (http://www.sgs.com/en/Energy/Energy-Sources/Wind/Services-in-the-Conceptual-Phase/Technical-Due-Diligence-for-Renewable-Energy-Projects.aspx), quality, health, safety and environment (QHSE) services, risk management and project certification for on-and offshore projects.
Visitors interested in the SGS services will have a valuable opportunity to discuss their particular needs with the rapidly expanding SGS UK Renewables team, which has grown due to the recent appointment of several key industry experts further enhancing SGS's knowledge and expertise.
SGS comprehensive services commence at the conceptual phase and continue to the design, manufacturing, transportation, installation and in-service inspection of wind turbines. During each phase of a project lifecycle, SGS provides a range of renewable energy services (http://www.sgs.com/en/Energy/Energy-Sources/Wind.aspx) specifically designed to minimize failure rates and maximize asset value, bringing benefits to project owners, financiers and underwriters, all of whom hold a stake in the successful operation of a given facility.
SGS is eagerly anticipating the opportunity to demonstrate an unrivalled range of services and breadth of experience to visitors attending the RenewableUK 2012 exhibition.
For further information, please contact:
SGS United Kingdom Limited
Stuart Herbert
Manager UK Renewable Energy Services
SGS house, 217-221 London Road
Camberley, Surrey, GU15 3EY
United Kingdom
t: +44 1276 697877
f: +44 1276 697696
E-Mail: industrial.pr@sgs.com
Website: www.sgs.com/wind
SGS is the world's leading inspection, verification, testing and certification company. SGS is recognized as the global benchmark for quality and integrity. With more than 70,000 employees, SGS operates a network of over 1,350 offices and laboratories around the world.
Featured Product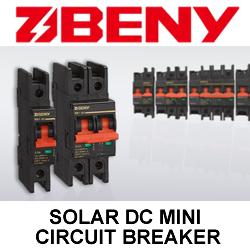 The BB1-63 modular miniature circuit-breakers can be used in solar DC circuits up to 1200 VDC (4-poles execution). Application in solar DC circuits, battery energy storage systems and UPS. Arc flash barrier design keeps solar equipment more safe and reliable. For DC circuit over-current protection.