Successful, Long-Term Supplier Partnerships Fast-Track GE Projects to Meet Ontario's Green Energy Act Requirements----- Extensive Supply Chain Drives Validated, Quick Ramp-Up for GE Wind Projects----- Brazil and Quebec Local Content Models Serve as Successful Template for GE in Ontario
TORONTO—October 15, 2012—GE (NYSE: GE) is showcasing its local manufacturing leadership for Ontario's growing wind industry at the CanWEA 2012 annual conference and exhibition, Canada's largest wind energy trade show. Ontario's Green Energy Act mandates that wind farm developers across the province meet local content requirements, benefiting the Ontario economy.

"Our strengths in Ontario are a true differentiator for our wind business," said Victor Abate, vice president of renewable energy at GE. "GE's local manufacturing presence and supplier network allows us to accelerate our ramp-up time quickly and effectively."
In Ontario, the company is working with an extensive supplier network and its sister GE manufacturing plant in Peterborough to meet the requirements of the Green Energy Act. The Peterborough facility is currently ramping up to assemble the hubs of wind turbines to support projects in the province. GE's suppliers are well established with the company and have a proven track record across an array of GE products.
GE is modeling its Ontario wind project plans on successful local content execution in Brazil and Quebec, where it enabled quick supply chain ramp up through GE's local manufacturing and supplier presence.
Eleven projects in Ontario will utilize GE turbines and by 2015 GE wind turbines in the region will deliver approximately 1,200 megawatts (MW) of wind energy in Ontario, enough to power 320,000 homes.
This year GE also will complete delivery of 593 1.5-77s for eight projects in Quebec. This effort is part of 2004's milestone announcement by Hydro-Quebec, highlighting the largest single award for new wind generation capacity in the industry. These projects fulfilled a 2003 request for proposals to supply Quebec with 1,000 MWs of new wind power capacity by 2012. GE's local supply chain manufacturing and supplier partners in Quebec have been integral to the success of this project.
Ontario Renewable Energy Growth
Canada's wind installed base is set to nearly double between 2011 and 2014, to an expected 10 gigawatts (GW) of capacity. Ontario will be 3.2 GW of that build out.
Since 2008, wind and solar have accounted for 30 percent of energy capacity additions to the Ontario market and will comprise more than half of planned capacity additions from 2012-2016. By 2016, wind and solar are projected to account for 15 percent of Ontario's capacity mix, up from 5 percent in 2011.
About GE
GE (NYSE: GE) works on things that matter. The best people and the best technologies taking on the toughest challenges. Finding solutions in energy, health and home, transportation and finance. Building, powering, moving and curing the world. Not just imagining. Doing. GE works. For more information, visit the company's website at www.ge.com.
Featured Product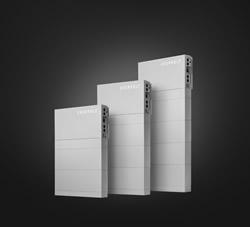 Offer homeowners best-in-class solar and energy storage in one money-saving bundle. Panasonic's new EverVoltâ"¢ Series modules come in 350W, 360W, 370W & 380W models and work seamlessly with their EverVolt battery storage - all warrantied by one of America's most trusted brands.