India has significant power generation needs.
OGDEN, UT, USA and PUNE, INDIA - Oct. 15, 2012 - Infinia Corporation, a leader in the development of innovative, clean energy products that use its proprietary free piston Stirling generator, today announced a strategic partnership with GreenTek Systems (India) Limited ("GreenTek"), a company owned by the Kirloskar family. The relationship includes an equity investment by GreenTek into Infinia, a joint development effort on Infinia's next generation of high efficiency Stirling generators, and the planned license and formation of a joint venture in India.

"GreenTek has spent the last year conducting extensive diligence on our PowerDish product; we are pleased to have them as a key strategic partner," said Mike Ward, Infinia's President and CEO. "GreenTek will assist us in rapidly moving our PowerDish products forward as well as our product family of 'offgrid and micro-grid' power solutions for the rapidly growing emerging economies."
India has significant power generation needs. Over 404 million people in the country do not have access to electricity, and more than 50% of its grid-connected villages suffer from erratic, low voltage power. The need to augment grid-connected and micro-grid served villages with reliable, renewable energy represents a sizeable market opportunity for GreenTek and Infinia.
"We have been looking for a solar energy solution for both grid-scale and micro-grid applications in India that we feel can compete on a CER (Cost, Efficiency and Reliability) basis with current and future technologies. In addition to providing reliable solar energy, the PowerDish can be readily integrated into our existing manufacturing and supply chain capabilities, ensuring low system cost," said Gauri Kirloskar, Executive Director of GreenTek.
www.infiniacorp.com
Infinia Corporation is an energy technology company developing and manufacturing high-efficiency, free-piston Stirling generators that convert readily available and low cost heat sources such solar, biogas and natural gas into reliable on- or off- grid electricity. Following 30 years of development of its ultra-high reliability technology for the DOD, NASA and the DOE, Infinia is currently launching its solar product, the PowerDish™. The PowerDish is the world's first Stirling-based solar power generation system suitable for automotive-scale manufacturing and deployment from small distribution-scale arrays to multi-megawatt, utility-scale solar power plants. For more information on Infinia Corp., its Stirling platform, or fuel-fired, combined heat and power (CHPP), hybrid 24/7 and PowerDish™ solar products, please visit www.infiniacorp.com.
Featured Product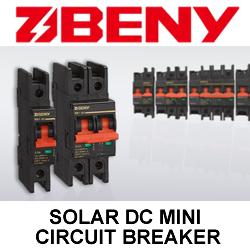 The BB1-63 modular miniature circuit-breakers can be used in solar DC circuits up to 1200 VDC (4-poles execution). Application in solar DC circuits, battery energy storage systems and UPS. Arc flash barrier design keeps solar equipment more safe and reliable. For DC circuit over-current protection.