The PV mounting system manufacturer Clenergy's three-day appearance at the Solar Power International 2012 exhibition in Orlando (11th-13th September) was yet another successful step in its journey towards establishing itself in the PV markets of the US. Beside establishing substantial contact with a large number of new and interested distribution and retail partners. Clenergy has presented its innovative new 3D software online tool PV-ezDesign and its new ground mount system PV-ezRack SolarTerrace I-B together with its current bestseller for ground mount and flat roofs.
The Clenergy expo highlight on software side has been the brand new online tool PV-ezDeisgn. The virtual planning and calculation of PV systems for all flat and pitched roofs as well as for ground mount has never been more comfortable, precise and realistic: a state-of-the-art software technology for the best possible analysis of all relevant factors. It allows users to create a true life 3D layout on roofs, and ground including the surrounding area on the basis of satellite photographs from Google Maps. The 'live' calculation of all potential shadow cones, integrated building regulations with pre-saved regional data concerning solar radiation and wind and snow loads. A selection of over 2000 modules from more than 200 different manufacturers and many other features are also integrated.

On product side for the first time ever Clenergy had displayed its new ground mount system PV-ezRack SolarTerrace I-B in Orlando. This innovative new system usable for any framed solar panels is an efficient, highly cost effective and environment-friendly product. All beam and support components are standardized with uniformed fasteners. This reduces costs without any compromises in its structural integrity. Key innovation is the W clamp which locks the PV panels firmly in place. The roll-formed C-steel rails are recyclable.
In addition to this new software and product Clenergy has presented it's well known and accepted flat roof solution PV-ezRack SolarMatrix Pro - which is designed to fit concrete flat roofs with slopes ranging from 0 to 5° - as well as its already established PV-ezRack SolarTerrace II and SolarTerrace III ground mounted systems for all types of ground, even areas with a high wind and snow load.
"The SPI 2012 exhibition again has impressively shown that our strategy meets the approval of specialist retailers in the US. The number of visitors to our stand who were specifically interested in Clenergy solutions was extraordinary high. The expo in Orlando once again shown Clenergys acceptance and innovative potential in the PV mounting system market" concludes Steve Grippi, Clenergys US Buisness Development Manager and press contact at the SPI 2012.
Featured Product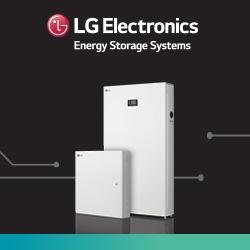 Meet LG Electronics Home 8 Energy Storage System (ESS), a whole home battery backup solution built with installers and their homeowner customers in mind. The ready-to-deploy Home 8 features just one SKU and a modular assembly for fast installation. It can be AC-coupled or solar-powered and is engineered with a grid-connected inverter, four battery modules, and a Smart Energy Box featuring a 7'' LCD touchscreen with commissioning wizard for easy setup. Each Home 8 unit can store up to 14.4 kWh of usable power, helping homeowners gain pure independence from the grid. Plus, installers can connect up to four units, bringing customers up to 57.6 kWh of total backup power-all easily managed and monitored through intuitive mobile apps.