SMEs deliver renewable energy to emerging markets with OPIC support
SAN JUAN, Puerto Rico – Following one record year with another, the Overseas Private Investment Corporation(OPIC), the U.S. Government's development finance institution, committed more than $1.55 billion to the renewable resources sector in Fiscal Year 2012, an increase of almost half a billion dollars over FY2011. The results were announced at the Caribbean Renewable Energy Forum.

A new focus on sustainable agriculture and clean water, manifested in projects designed to improve food security and the delivery of potable water in Africa, Latin America and Eastern Europe, drove much of the increase, accounting for $575 million of the FY2012 portfolio.
Another distinguishing feature of the FY2012 portfolio was the ability of U.S. small businesses to deliver renewable energy to local populations. From the firstgrid-connected biomass project in Pakistan to a solar project in Afghanistanand a clean energy distribution project in India, American small and medium-sized enterprises (SMEs) are using OPIC financing and political riskinsurance to increase emerging markets' renewable energy capacity.
"A new agency record in commitments for FY2012 confirms renewable resources as OPIC's top priority," said OPIC President and CEO Elizabeth Littlefield. "These results show that the scale of investment opportunity in the sector equals the scale of the urgent need to more efficiently harness the world's renewable resources. Increasingly, U.S. companies – especially small businesses – are stepping up to seize this opportunity."
"By increasing exponentially our support for sustainable agriculture projects this year, we aimed to tackle one of the signal development challenges of our time – the growing need for greater food security in emerging markets. American entrepreneurial innovation made its mark here, too, using flexible OPIC investment support to bring critical developmental benefits to populations in Africa, Latin America and Eastern Europe," Ms. Littlefield said.
Lynn Tabernacki, OPIC's Director of Renewable and Clean Energy, said, "We've worked hard to shape the evolution of our renewable resources portfolio to support urgent prioritiessuch as clean energy, food security, and the provision of clean water. The fact that we've found willing U.S. investors to partner with us in this effort points to an even brighter future."
For the fiscal year, OPIC committed $1.555 billion in financing, political risk insurance and investment funds to more than 20 projects in nearly every emerging market – Africa, Asia , Eastern Europe, Latin American and the Middle East – including such least-developed countries as Afghanistan, Haiti and Rwanda. Nearly $1 billion of the commitments were for renewable energy projects, roughly equal to FY2011. Well over half of the OPIC clients in this area were American SMEs.
Highlights of OPIC's year in renewable resources include:
* A total of nearly $477 million in political risk insurance for two projects in Ghana, one to help modernize its agricultural sector, bringing much-needed food security to the country, the other to support the rehabilitation of nearly half its municipal water purification systems.
* $185 million in financing for the construction of two 20-megawatt solar power plants in Peru that will produce nearly 100 million kilowatt hours of electricity annually – a critical step forward for a country facing one of the lowest rural electrification rates in Latin America.
* $250 million in financing for the agency's first solar power commitment in South Africa, a 60-megawatt plant that will help diversify the country's electricity generation beyond its heavy coal concentration and displace approximately 140,000 tons of greenhouse gas emissions in its first year alone.
* Financing for Pakistan's first grid-connected independent biomass project, a 12-megawatt power plant in Sindh Province that will use agricultural waste products such as bagasse, rice husks, cane trash, and cotton stalk, all of which are in abundant supply locally.
* $10 million in financing to improve low-income populations' access globally to clean energy and water products such as clean stoves for cooking and heating, solar lighting and water purifiers by linking purchase of those products to carbon markets through Emissions Reductions Purchase Agreements.
Featured Product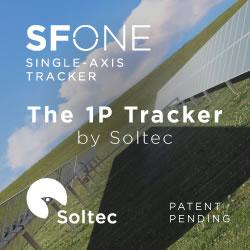 SFOne is the 1P single-axis tracker by Soltec. This tracker combines the mechanical simplicity with the extraordinary expertise of Soltec for more than 18 years. Specially designed for larger 72 an 78 cell modules, this tracker is self-powered thanks to its dedicated module, which results into a lower cost-operational power supply. The SFOne has a 5% less piles than standard competitor, what reduces a 75% the labor time.