MidAmerican Transmission will help provide important benefits to customers in Canada through this joint venture with RES Canada and in the U.S.
PORTLAND, Ore.--Today, MidAmerican Transmission announced a Canadian subsidiary has entered into a joint venture with Renewable Energy Systems Canada Inc. (RES Canada, www.res-americas.com) in Ontario, Canada, to sponsor a competitive proposal for the province's East-West Tie Line project.

MidAmerican Transmission plans to actively compete in the competitive process for already established projects and for projects in development. Future projects will build upon MidAmerican Transmission's experience in the existing joint ventures of Prairie Wind Transmission and Electric Transmission Texas.
Greg Abel, chairman, president and CEO of MidAmerican Energy Holdings Company, the parent company of MidAmerican Transmission, said, "This announcement reflects MidAmerican's further commitment to complete electric transmission projects in a timely and cost-effective manner, which will ultimately provide economic benefits to and improve reliability for electric end-use customers."
"MidAmerican Transmission looks forward to building upon MidAmerican Energy Holdings Company's experience in constructing, owning and operating transmission assets," said John Cupparo, president of MidAmerican Transmission.
"The expansion of MidAmerican Transmission will help provide important benefits to customers in Canada through this joint venture with RES Canada and in the U.S. when competition is established under the Federal Energy Regulatory Commission processes under its recent Order No. 1000. MidAmerican Transmission will seek to develop transmission projects jointly with footprint utilities in this competitive environment but also is positioned to compete on a stand-alone basis."
MidAmerican Transmission, a wholly owned subsidiary of MidAmerican Energy Holdings Company, based in Des Moines, Iowa, is engaged in the development of electric transmission facilities. MidAmerican Transmission has invested in transmission in several regions in the U.S. and is evaluating opportunities to further develop electric transmission facilities in organized and traditional markets in the U.S. and Canada. Additional information about MidAmerican Transmission is available at www.midamericantransmission.com.
Both MidAmerican Transmission and the Canadian subsidiary are wholly owned by MidAmerican Energy Holdings Company. Through its subsidiaries, MidAmerican provides electric and natural gas service to more than 6.9 million customers worldwide, operates an extensive 18,000-mile electric transmission system, a natural gas local distribution system, and extensive pipeline systems totaling nearly 17,000 miles. Learn more at www.midamerican.com.
Featured Product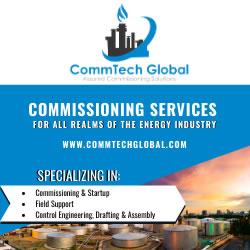 CommTech Global Solutions, LLC, provides professional and reliable commissioning services to customers in all realms of the energy industry. We blend our skills in engineering and technology with innovative business models, offering a complete range of services to assist you for a successful and in compliance operational startup. Consolidation of all our service domains gives our clients a comprehensive set of expertise and far-reaching experience on each project.