Collaboration Aims to Further Research and Solve Key Biological Challenges for Commercial-Scale Algae-to-Energy Production
San Diego (November 1, 2012) – Sapphire Energy, a world leader in producing crude oil from algae, and Institute for Systems Biology (ISB), the pioneers of the cross-disciplinary and integrative systems approach to research, today announced a strategic partnership to further the scientific research and development of algae biofuels. Through this partnership, the companies will focus on applying systems biology solutions to algae with the goal of significantly increasing oil yield and improving resistance to crop predators and environmental factors in order to further the advancement of commercialized algae biofuel production.

"Sapphire is dealing with one of the most complicated problems known to humans: how to make fuel from a renewable resource," said Nitin Baliga, director of Integrative Biology at ISB. "Together, we have complementary expertise that will allow us to understand, reverse engineer and rationally alter the gene networks for fuel production in algae."
"Sapphire Energy has developed the premier biotechnology platform for producing and harvesting algae which we see as having incredible biological potential," said Alex Aravanis, chief science officer (CSO) at Sapphire Energy. "By working with ISB to apply their systems biology approach, we're able to more rapidly identify genes and regulatory pathways that can increase yield and move us toward our goal of making Green Crude a market viable, crude oil alternative."
"Sapphire has embarked on one of the most exciting new technologies of our decade – to produce crude oil from algae at scale," said Leroy Hood, president of Institute for Systems Biology. "By linking Sapphire's expertise in algae with ISB's cross disciplinary approach to biology, we hope to reverse engineer the gene networks in algae and create strategies that will significantly improve the yield of green oil and crop protection and reduce significantly the time to market."
Sapphire Energy produces algae crude oil, known as Green Crude, which is renewable, low carbon and can be refined using typical refinery configurations into Naphtha, diesel and kerosene (jet fuel). Today, the company has pioneered much of the science along the algae-to-energy value chain from biology, cultivation, harvest and extraction. The company recently began operating the first phase of its 300-acre commercial demonstration Green Crude Farm, also known as an Integrated Algal Bio-Refinery, in Columbus, New Mexico, in partnership with the US Department of Energy. The Green Crude Farm is expected to produce approximately 100 barrels of Green Crude per day, and be completed the end of 2014.
In addition, Sapphire Energy operates a 22-acre research and development facility in Las Cruces, New Mexico, where it can swiftly develop new technology and apply it from bench to demonstration scale. In previous pilot activities, the company successfully provided Green Crude oil that was used to produce jet fuel for the first flights using algae-derived jet fuel, including a Continental Airlines 737-800 and a Japan Airlines 747-300.
ISB, a world leader in systems biology, combines the massive amounts of different kinds of data that can be generated with today's high throughput biology to build detailed genetic models of complex processes, such as crude oil production by algae. These models can then be validated and used to make predictions about how to change the algae or their environment to improve yield and overall crop performance.
About Sapphire Energy: San Diego-based Sapphire Energy is pioneering an entirely new industry – Green Crude production – with the potential to profoundly change America's energy and petrochemical landscape for the better. Sapphire's products and processes in this category differ significantly from other forms of biofuel because they are made solely from photosynthetic microorganisms (algae and cyanobacteria), using sunlight and CO2 as their feedstock; are not dependent on food crops or valuable farmland; do not use potable water; do not result in biodiesel or ethanol; enhance and replace petroleum-based products; are compatible with existing infrastructure; and are low carbon, renewable and scalable. Sapphire has an R&D facility in Las Cruces, New Mexico, and is currently operating the first Integrated Algal Bio-Refinery in Columbus, New Mexico. For more information, visit www.sapphireenergy.com
About ISB: The Institute for Systems Biology (ISB) is a world-renowned, non-profit research institute headquartered in Seattle that is dedicated to the study and application of systems biology. Founded in 2000, ISB seeks to unravel the mysteries of biology while identifying strategies for predicting and preventing diseases, solving energy and environmental issues, and improving K-12 science education. ISB's systems approach integrates biology, computation and technological development, enabling scientists to analyze all elements in a biological system rather than one gene or protein at a time. ISB has 11 faculty members and about 230 staff.
Featured Product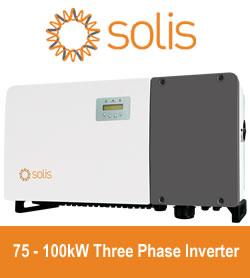 Solis75kW - 100kW series high-power string inverters are widely used in industrial and commercial rooftops. Solis's new three-phase string inverter is the first choice for industrial and commercial photovoltaics. 75-100kW three phase series string inverter have Maximum 28 strings input, support "Y" type connection in DC side. Maximum string input current 13A, support bifacial modules access.Supports anti-PID function to improve system efficiency.