The resulting energy will be enough to power over 600 homes.
November 2, 2012 Minneapolis, MN – tenK Energy announced today that it has been selected by the Ashburnham Municipal Light Plant (AMLP) to develop a 3 MW solar electric facility in Ashburnham, Massachusetts. The ground mounted facility will consist of approximately 16,000 tenKsolar modules, which, when combined with tenKsolar's reflectors, boost energy production by 30% compared to a conventional solar array. The resulting energy will be enough to power over 600 homes.

Jack Levi, Managing Partner of tenK Energy and Stan Herriott, General Manager of AMLP, said that their goal is to start commercial operation in 2013.
About tenK Energy: tenK Energy is a developer of solar PV power plants utilizing tenKsolar's advanced technology. tenK Energy has an experienced team that has successfully developed renewable energy projects in the U.S. since 2003.
About AMLP: AMLP is the electric power utility for the residents and businesses of Ashburnham, MA. AMLP is a not-for-profit municipal utility owned by the citizens of the town. They are dedicated to providing safe, reliable electric energy and high quality service at the lowest possible rates.
Featured Product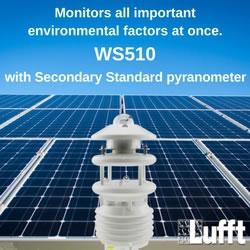 First and only Smart Weather Sensor with integrated Kipp & Zonen CMP10 Pyranometer (secondary standard). From the WS product family of professional intelligent measurement transducers with digital interface for environmental applications. Integrated design with ventilated radiation protection for measuring: Air temperature, relative humidity, air pressure, wind direction, wind speed and radiation. One external temperature or rain sensor is connectable.