While the year is coming to a close, it's certainly not too late to design and install a solar panel system that will earn you a 30% tax credit, along with other financial incentives.
For those expecting to owe taxes this year, it's certainly not too late to earn and apply a 30% tax refund against that by installing solar panels. The government allows home and business owners to take a 30% non-refundable tax refund based on the overall cost of a solar panel installation, which could reduce the amount of taxes you owe by thousands of dollars. The entire installation takes just a few days for a home (longer for large businesses) and can easily be done during the fall season.

Going solar in Pennsylvania is a great idea all around. Not only does solar energy reduce or eliminate your energy bills (your choice), but with the many government incentives available, a solar installation actually turns into a financial investment that has a more steady return than the stock or real estate markets.
How much you pay for a solar panel installation, how long it takes for that system to "pay for itself," and how much money you can expect to make on your installation over the course of its lifetime are all variables that are really best answered with a free site audit. The audit takes roughly about 20 minutes, and at that time experts typically review the expectations of a system, the property, and take into account a few other aspects that determine the right system for your budget. Almost all installations will pay for themselves before the half-way point, and from there a home or business owner can enjoy the investment returns through net metering and renewable energy credits, as well as not ever having to worry about rising energy prices or power outages. The system is under warranty for up to 25 years, and the maintenance is remarkably simple. Even if you don't purchase solar energy this year, the audit is free, and you will always know exactly what it would cost to go solar in the future.
With Germany having the majority of the world's solar panel installations, our similar climate here in Pennsylvania is more than accommodating to "going solar." Many times, home and business owners are not aware of just how efficient solar power is in our area, and not much has been done to educate consumers about solar energy as a financial investment. As the years go by, this will easily become more common knowledge. Until then, you can become an early adopter and enjoy the tremendous tax rebates available from the government, same-as-cash financing, and so many other beneficial incentives that have been provided to help position the USA (and, more specifically, Pennsylvania) as a leader in solar and renewable energy.
Featured Product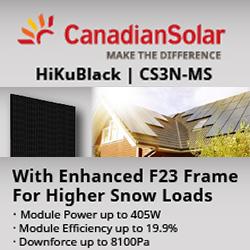 Aesthetic appearance for residential systems: With black backsheet & black frame, Power range 380 ~ 405 W, Low power loss in cell connection. Enhanced reliability: · Low temperature coefficient (Pmax): -0.34 % / °C, LID LeTID less than 2.0%, Lower hot spot temperature, Better shading tolerance.