Energy-efficient 3-axis accelerometer delivers advanced motion detection accuracy and low noise for smart metering and industrial applications
MEMS Executive Congress 2012

SCOTTSDALE, Ariz.--Freescale Semiconductor (NYSE: FSL) today introduced a new micro-electromechanical system (MEMS) accelerometer featuring ultra-low power consumption and a simple plug-and-play approach to tilt threshold detection for use in physical tamper protection for smart meter applications. Freescale's Xtrinsic MMA8491Q energy-efficient accelerometer expands the portfolio to industrial markets requiring wide pin pitch, visually inspectable leads and long product life cycles.
"Freescale is addressing this need with a simple to use, cost-effective and extremely low-power 3-axis accelerometer with specific embedded functionality."
."Smart meters are proliferating with the emergence of the connected home and smart grid, and protection from physical tampering is a critical requirement," said Seyed Paransun, vice president and general manager of Freescale's Sensor & Actuator Solutions Division. "Freescale is addressing this need with a simple to use, cost-effective and extremely low-power 3-axis accelerometer with specific embedded functionality."
Designed for applications requiring reduced complexity and advanced system integration, the Xtrinsic MMA8491Q accelerometer for tilt threshold sensing plays an integral role in Freescale's system-level smart meter reference designs that detect physical tampering (introduced at Sensor Expo 2012 and Metering Europe 2012). Movement of the meter is detected through the change in tilt angle and communicated to the utility company as a tampering event.
The Xtrinsic MMA8491Q accelerometer was designed to be very flexible and useful for a wide variety of applications beyond smart metering in which orientation needs to be accurately measured – motion detection in gaming consoles and home appliances, for example. The accelerometer also is ideal for tracking asset handling in business and industrial settings and can be employed in eHealth and portable health monitoring systems.
Tweet this: @Freescale introduces new Xtrinsic sensor for smart meter tamper protection www.freescale.com/MMA8491Q
Xtrinsic MMA8491Q 3-axis accelerometer features
The Xtrinsic MMA8491Q accelerometer for tilt sensing features X-, Y- and Z-axis tilt threshold detect outputs and operates with reduced power capabilities that intelligently determine when a device should operate in a low-power mode or shut off, helping prolong battery life.
Additional features include:
•Low current consumption at 400 nA per Hz
•Dedicated enable pin: "On" for trigger one shot measurements; "Off" for shutdown mode and ultra-low current consumption at 10 nA
•Preconfigured tilt threshold detection triggers for simple plug-and-play integration
•3-axis logic outputs (above/below threshold) provide tilt indicators
•Programmable tilt threshold limits
•I2C functionality with +/-8 g dynamic range for traditional accelerometer data capture
•3 x 3 x 1.05 mm QFN package with solder visual inspectable pins at 0.65 mm pitch
•Wide range voltage supply functionality at 1.95 V to 3.6 V
Pricing and availability
The Xtrinsic MMA8491Q accelerometer is in production now for a suggested resale price starting at $1.03 (USD) in 10,000-piece quantities. For more information, visit www.freescale.com/MMA8491Q.
The Freescale sensor toolbox provides hardware, software and accessories in a common platform for accelerometers, magnetometers, pressure sensors and touch sensors. Freescale offers the LFSTBEB8491 development board for a suggested resale price of $75 (USD). There is also a packaged option RDMMA8491 that includes the accelerometer development board with the USB board for a suggested resale price of $99 (USD). For more information, visit www.freescale.com/SensorToolbox.
Freescale also offers a simple, standalone DEMOMMA8491 board that triggers LEDs that correspond with the tilt angles for a suggested resale price of $19.99 (USD).
Freescale's new MMA8491Q tilt sensor is included in Freescale's product longevity program, with assured supply for a minimum of 10 years. See www.freescale.com/productlongevity for details, terms and conditions.
A proven leader in sensing solutions
Expanding on its more than 30-year heritage of sensor innovation, Freescale's Xtrinsic sensing solutions are designed with the right combination of high-performance sensing capability, processing capacity and customizable software to help deliver smart, differentiated sensing applications. With Xtrinsic sensing solutions, Freescale's vision is to offer a diverse and differentiated product portfolio to meet the expanding needs of the automotive, consumer and industrial segments. Xtrinsic solutions offer distinct blends of functionality and intelligence designed to help customers differentiate and win in highly competitive markets.
About Freescale Semiconductor
Freescale Semiconductor is a global leader in embedded processing solutions, providing industry leading products that are advancing the automotive, consumer, industrial and networking markets. From microprocessors and microcontrollers to sensors, analog integrated circuits and connectivity - our technologies are the foundation for the innovations that make our world greener, safer, healthier and more connected. Some of our key applications and end-markets include automotive safety, hybrid and all-electric vehicles, next generation wireless infrastructure, smart energy management, portable medical devices, consumer appliances and smart mobile devices. The company is based in Austin, Texas, and has design, research and development, manufacturing and sales operations around the world. http://www.freescale.com.
Featured Product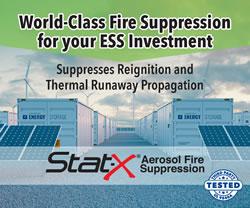 Stat-X® condensed aerosol fire suppression is a solution for energy storage systems (ESS) and battery energy storage systems (BESS) applications. Our Stat-X condensed aerosol fire extinguishing product was tested for efficacy in suppressing li-ion battery fires. It was found that the product successfully extinguished single and double cell battery fires. This testing was conducted in parallel with a large battery fire testing program on behalf of a large energy storage company.