The CEO and CFO of GAC's subsidiary Liberty Electric Cars arrive in the USA to continue the company's growth program
NEWPORT BEACH, Calif.--Green Automotive Company (OTC:GACR) today announced that two senior executives from Liberty Electric Cars, Ian Hobday, CEO, and Darren West, CFO, arrived in America on a business development tour.

The highlight of their visit sees them participate in the Limo Digest Show 2012 in Atlantic City which starts on the November 12th. Joining there with Carter Read, President of GAC subsidiary Newport Coach Works Inc. (NCWI), they plan several discussions with America's leading bus retailer, Don Brown Bus Sales Inc. following hot on the trail of their initial order with NCWI. With GAC announcing recently that their two subsidiaries NCWI and Liberty will collaborate on the development of a range of Electric Buses, the meeting with Don Brown promises to be about the future of clean transport solutions across America.
In addition their visit will take in a number of meetings, including three designed to advance potential acquisitions with face-to-face discussions. All three potential acquisitions are in the Electric Vehicle space and would enhance GAC's US footprint in this fast-growing sector. They will also meet with a $15bn US Truck Manufacturer to further their dialogue over potentially building vehicles under licence in the low- or zero-emission category.
Darren West, CFO of Liberty: "Every industry presents consolidation opportunities at the beginning and at the end. Since we're at the beginning of the development of the EV transport industry, GAC have recognised that a number of acquisition, merger and JV opportunities will present themselves. We plan to use our time here in the States to follow up on a number of these development possibilities, and potentially to uncover some new ones."
Ian Hobday, CEO of Liberty: "GAC's time is now. With probably the best EV technology, particularly for larger vehicle platforms and a wealth of experience, we anticipate a leading role in the development of the clean transport sector. This visit to America so shortly after hosting Carter Read in the UK, allows us to continue to build on those discussions. More than that, it allows us to present the future to a key partner like Don Brown, and get their input in to how we bring to market the most exciting zero-emission public transport solutions."
About Green Automotive Company: Green Automotive Company is a US public company involved in the Conversion, Import and World-wide Distribution of Eco-friendly vehicles. The Company is presently planning to bring All-Electric and other Eco-friendly vehicles into the United States market through a combination of converting piston engine vehicles and importing existing EVs. The Company is currently involved in assessing a number of All-Electric and alternate fuel vehicles including an All-Electric Intra-City and Municipal Mass Transit Bus and School Bus, for introduction to the US market. GAC recently acquired Liberty Electric Cars Limited, a UK-based company that designs, develops, manufactures and markets electric vehicle technologies for use in its own converted vehicles and for sale to OEMs for incorporation into their production. It provides a full aftermarket program to electric vehicle users to ensure the longevity of their vehicles and has partnership arrangements in other European countries. The Liberty team, can count on over 200 man years of experience in the Automotive industry and specifically 70 plus man years in the EV sector covering some 2,500,000 miles. Green Automotive Company maintains its Corporate Office in Newport Beach, California. Green Automotive Company shares are traded on the OTC Market Tier--OTC Pink Current under the symbol "GACR". For more information visit www.usaelectricauto.com or write to info@usaelectricauto.com.
Featured Product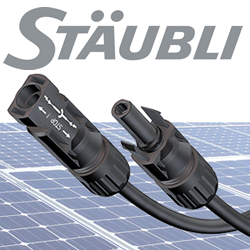 ​Stäubli Electrical Connectors are used on more than 300 GW, over 50% of the PV capacity worldwide. The MC4 family of UL and TUV listed products include connectors, in-line fuses, branch connectors, cable assembly and more.