3 kW PV-kit with charge controller unit continues to power homes during grid outages; battery-ready solution included
Dublin (Georgia), November 09, 2012. – MAGE SOLAR, the US-based single source PV-solution provider, is introducing a convenient 3 kW emergency kit that is designed as a stand-alone solution to provide reliable power during grid outages.

Geared mainly towards the residential home or small commercial market, the emergency kit contains the company's signature MAGE POWERTEC PLUS modules, a pitched roof mounting solution, and Balance Of System. It also includes an inverter with charge controller unit to charge an existing battery system or to directly provide electricity to appliances as well as other devices and communication equipment in order to stay connected and operational after natural disasters.
Other BOS components are included as well, as is the charge controller inverter. This UL-listed device is especially designed to quickly respond to any power requirement and continue to provide electricity from the PV-array to the home even when the grid is unavailable. Traditional grid-tied PV systems usually lack this feature which has oftentimes been a draw back during prolonged power outages. Besides being both grid-interactive and stand-alone capable, the unit also regulates the charging of back-up batteries. The unit will connect to already existing 48 V battery set-ups or can be integrated with new batteries.
All MAGE POWERTEC PLUS modules are manufactured according to highest safety and quality standards and are guaranteed to yield 80% of their power up to 30 years, making MAGE SOLAR PV systems one of the most reliable long-term solutions available on the market. Additionally, the modules feature only zero to +5 Watt tolerances and are therefore always producing their nameplate value at the minimum, most of the time exceeding the nominal power.
MAGE SYSTEMTEC, the company's mounting solution, is a racking system that is fast and easy to install and optimally coordinated with MAGE POWERTEC PLUS modules. Requiring only a minimum of tools the rails are simply connected with snap-on mid-clamps and slide-on end-clamps, saving valuable installation time. Roof specific connectors can be ordered additionally.
"In light of the recent storms and natural disasters we feel that a combined grid-tied and stand-alone PV-system like the MAGE SOLAR PV-Kit gives end-users the greatest flexibility and independence during power outages," says Joe Thomas, President and CEO of MAGE SOLAR USA. "We are proud to be able to offer a safe and top-grade system solution to customers who want to be sure the end-user has dependable power no matter what."
MAGE SOLAR – The Sun on Your Side
MAGE SOLAR USA, headquartered in Dublin, Georgia, specializes in complete solar systems and provides high-quality photovoltaic modules, intelligent mounting systems and high-performance brand inverters. As a subsidiary of the international MAGE GROUP, it uses the Group's 40 years of know-how to develop optimally coordinated system solutions. A competent partner network guarantees profitable solar energy systems for customers throughout the Americas and in 21 more countries in Europe, Asia, Africa, and Australia. In 2011, the company generated U$280 in sales with around 180 employees.
Featured Product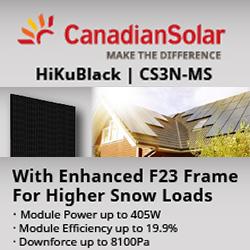 Aesthetic appearance for residential systems: With black backsheet & black frame, Power range 380 ~ 405 W, Low power loss in cell connection. Enhanced reliability: · Low temperature coefficient (Pmax): -0.34 % / °C, LID LeTID less than 2.0%, Lower hot spot temperature, Better shading tolerance.