Teams were announced during the Baker Award Luncheon at the 2012 Fuel Cell Seminar & Energy Exposition
COLUMBIA, SC (Nov. 8, 2012) - Today the Fuel Cell Collaborative, a partnership between the University of South Carolina (USC), City of Columbia, SCRA, EngenuitySC, and Midlands Technical College, is pleased to announce the winners for its $75,000 Fuel Cell Challenge V. Three USC teams (listed below) will each receive approximately $25,000 in funds. The teams were announced during the Baker Award Luncheon at the 2012 Fuel Cell Seminar & Energy Exposition, one of the largest gatherings of over 1000 industry professionals in North America.

"The Fuel Cell Challenge is a fantastic outlet for our students to work on real-world problems, applying their academic training and entrepreneurial spirit to create innovative solutions," said University of South Carolina President Harris Pastides. "They are getting hands on experience and mentorship opportunities that expand beyond the boundaries of the classroom, and I congratulate the winning teams on their tremendous achievement."
The purpose of this year's Challenge is to engage interdisciplinary student teams from USC through two contests: the Industry Challenge, where students create solutions for industry proposed problems; or the Innovation Challenge, where students submit business plans to commercialize new hydrogen and fuel cell technologies.
The submitted student proposals were reviewed by a panel of industry experts based on five criteria: composition of team, technical approach, innovative approach, commercial viability, and financial viability. These teams, along with USC faculty advisors, will work with industry professionals for the next six months to execute their proposals. Their final products or findings will be presented to a panel of industry representatives and entrepreneurs in May 2013.
"On behalf of the Fuel Cell Collaborative, I want to congratulate all of the winning teams and
industry participants for taking advantage of this unique collaboration opportunity " said Bill
Mahoney, CEO of SCRA. "The Collaborative is proud to support initiatives that help grow the
knowledge economy in South Carolina. By connecting a world class research institution with
innovative technology developers in the fuel cell industry, we hope this challenge will create the
first of many similar industry-academia collaborations."
Fuel Cell Challenge V - Winning Teams
Industry Challenge Winners
Team 1: be-SC
Project Directors: Dr. Mike Matthews, Dr. Jason Hattrick-Simpers
Project Team: David Chandler, Darrius Dunbar, Ross Hutto
Project Description: be-SC will develop improved disposal and recycling methods for spent fuel canisters with Trulite, Inc. These improved methods will reduce fuel canister cost and lead to increased market penetration.
Team 2: CapItalIs
Project Directors: Xinyu Huang
Project Team: William Rigdon, Joshua Sightler, Diana Larrabee
Project Description: CapItalIs will develop improved electrocatalysts for novel process
hydrogen recycling applications for Sustainable Innovations, LLC. These improved catalysts will lengthen system lifetime and allow entrance of the technology in new markets.
Innovation Challenge Winner
Team: SAGE Enterprises
Project Directors: Dr. Jochen Lauterbach, Dr. Erdem Sasmaz
Project Team: Sungtak Kim, Michael Mayeda, Yanjiao Yi, Daniel Fischer,
Katie McCullough, Abibatu Ojoamoo, Kelsey Taylor
Project Description: SAGE Enterprises is developing a reforming system that can convert liquid fuels into an LPG mixture for use in SOFC systems. This system has advantages for the operation of high power density LPG-SOFC systems in remote areas.
About the Fuel Cell Challenge
Started in 2006, the purpose of the Challenge is to invest in accelerating the commercialization of hydrogen and fuel cell technologies through collaboration. To date, the program has allocated almost $5 million in funding through more than 20 partnerships that have helped to establish new companies, commercialize new technologies, and advance the innovation pipeline for the hydrogen and fuel cell industries in South Carolina.
About the Fuel Cell Collaborative
The Fuel Cell Collaborative was formed by the University of South Carolina, the City of Columbia, EngenuitySC, SCRA, and Midlands Technical College to position Columbia, S.C. as a leader in hydrogen fuel cell innovation and technology. Its mission is to attract private sector partners, top fuel cell scientists, entrepreneurs, and innovators to the Columbia region to help grow an innovation pipeline from discovery through development and deployment of fuel cell technology. For more information, visit www.fuelcellcollaborative.com.
Featured Product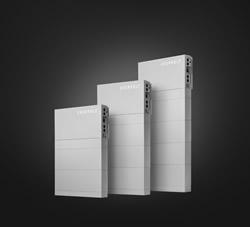 Renewable energy stored in an EVERVOLT home battery system is the perfect backup plan against an uncertain utility grid and weather events. Run key appliances longer and live life when the unexpected happens. EVERVOLT battery storage systems are covered by a complete 12-year warranty from Panasonic.