AllCell Automotive booth (#B404) will showcase the company's first product prototypes, one high power and one high energy lithium-ion battery, designed as drop-in replacements for existing lead acid batteries.
Troy, MI—AllCell Automotive, LLC, a Townsend Ventures, LLC company, will debut its thermal management technology for advanced battery systems at the Battery Show in Novi, MI from November 13th -15th. The AllCell Automotive booth (#B404) will showcase the company's first product prototypes, one high power and one high energy lithium-ion battery, designed as drop-in replacements for existing lead acid batteries. The prototypes are the first of an exciting new line of products for automotive, electric vehicle (EV) charging and medium and heavy duty vehicle applications. AllCell Automotive is the exclusive licensee of AllCell Technology LLC's patented phase change material (PCM) for thermal management of advanced energy systems in the automotive industry.

AllCell's technology uses PCM to extend battery life and prevent overheating and thermal runaway. The PCM technology can rapidly absorb large amounts of heat, allowing battery system designers to eliminate the bulky, expensive and inefficient liquid cooling systems common in current EV's and plug-in hybrids (PHEV's). AllCell Automotive's PCM based solution involves no moving parts, requires no power to operate, and continues to protect batteries from overheating during normal operation of the vehicle and when the vehicle is parked. This low cost, solid state thermal protection can be critical to vehicle safety after accidents or when other systems on the vehicle fail—a critical shortcoming of today's active thermal management systems. AllCell's PCM based technology, already commercialized in military, medical and light electric vehicle (LEV) applications, also provides a low cost solution to enhance vehicle range and performance. AllCell Automotive's systems are currently under evaluation by several global automakers.
The new 48 volt high energy prototype has a total capacity of 2.9 kilowatt-hours (kWh) with discharge rates of up to 120 amps. The 48 volt high power module provides discharge rates of almost 500 amps with 2.2 kWh of capacity. Both batteries fit into the same compact form factor, weigh approximately 22 kilograms, are equipped with advanced battery management systems (BMS), and last up to 2,000 cycles at an 80% depth of discharge. The proprietary BMS technology allows either module to operate as a stand-alone battery or to be strung together in series and/or in parallel to support systems of up to 800 volts, providing a flexible building block for a wide range of applications and energy storage needs, from golf carts to heavy duty trucks. With one-fourth the weight and several times the cycle life of comparable lead acid battery packs, the new products are ideal for upgrading existing vehicles or for inclusion in new vehicle designs.
Townsend Ventures, a Maryland based venture group, has a diversified portfolio of investments in several energy related businesses, including Michigan-based DowKokam and Energy Power Systems. "We are very excited about incorporating the AllCell technology into our portfolio of energy related investments and demonstrating our commitment to provide low cost energy storage solutions for electric propulsion" said Dennis Townsend, Chairman of Townsend Ventures, LLC. "Thermal management is a foundational issue for the adoption of all classes of electrified vehicles, whether EV, PHEV, HEV or even micro-hybrids. AllCell's patented technology will help resolve a number of critical industry challenges including battery pack safety, drive range, and cell life."
Featured Product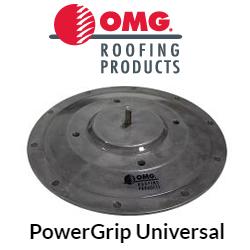 Eliminate Solar Rack Ballast and Reduce Rooftop Material Handling. PowerGrip™ Universal (PGU) is a commercial roof mount system designed to secure solar racks and other equipment to any type of commercial roofing system. PGU provides a secure connection directly to the roof deck or structural members and is designed to reduce or eliminate ballast in solar racking systems, so there's less weight on the roof and less material handling. Made of heavy-duty cast aluminum, PGU units include a base ring which is secured through the roofing cover and into the structural roof deck, and a waterproof top plate.