PILOT PROJECT BY THE SAN FRANCISCO PUBLIC UTILITY COMMISSION AT START
Novazzano, November 12th 2012 – Paradox Engineering SA, the Swiss hi-tech company specialized in advanced solutions for Smart Cities, industrial wireless sensor networks and global virtual networks, is starting the deployment of the pilot project for remotely managing the public lighting infrastructure in San Francisco, California.

Endorsed by the San Francisco Public Utility Commission (SFPUC), the project will lead to the implementation of a citywide secure wireless communication network to monitor and control different urban services such as street lighting, electric vehicles charging stations, electricity meters and traffic signals.
Strongly committed to sustainable development and energy efficiency, the SFPUC intends to replace the existing HPS street light poles with dimmable LED luminaires in the next two years, and to remotely manage them through an integrated wireless control system. In May 2012, Paradox Engineering won the prestigious Living Labs Global Award by proposing the SFPUC a very innovative solution consisting in a multifunctional bidirectional 6LoWPAN and IPv6 wireless full mesh narrowband / broadband communication network to support, monitor and manage public lighting and other urban services.
In the next few weeks, the pilot project will be kicked-off in downtown San Francisco. First step will allow remote monitoring and control of luminaires; electric vehicles charging stations, electricity meters and traffic signals control cabinets will be added shortly after. The project scope has in fact already been extended to include a first set of additional applications. Outcomes will be accurately analyzed to measure quantitative and qualitative benefits, therefore validating a model for future implementations.
"The project we're piloting with the SFPUC is highly innovative since it puts into practice the new paradigm of the 'Internet of Things', where any object can be associated with an IP address and integrated into a wider network to transmit and receive relevant information. The full interoperability granted by Paradox Engineering's solutions, which allows to manage different devices on one integrated platform, ensures one network can deliver multiple urban applications and services", states Gianni Minetti, President and CEO, Paradox Engineering.
Working closely with the SFPUC, Paradox Engineering is taking care of the solution's design, engineering and delivery, also providing technology and expertise to streamline the implementation of the IPv6 wireless full mesh network and its different components. Other relevant industry players such as Philips Lighting and Oracle have embraced the SFPUC's approach to a smarter and more livable city, fully supporting the project through practical and conceptual endorsement, and creating conditions for easy implementation and scalability. Philips Lighting provides the network compatible lighting solutions, and Oracle's City Platform will help managing and analyzing data coming from this ground breaking system.
PE.AMI AS THE FOUNDATION OF SAN FRANCISCO'S PILOT PROJECT
The solution being implemented in San Francisco is entirely based on Paradox Engineering's PE.AMI, the open standard platform featuring hardware (nodes and gateways), software and a web based management system for machine-2-machine, Smart Cities and utility applications. The SFPUC preferred this platform out of several candidates because of its higher levels scalability, interoperability and security.
Fully compliant to 6LoWPAN protocol, PE.AMI is a truly multipurpose technology and allows the SFPUC to develop multiple applications on the same wireless network, without the need to build additional infrastructures for hosting present and future services. Another key benefit of PE.AMI is the possibility to improve wireless communications by supporting both narrowband and broadband data traffic within the same gateway, therefore increasing data transmission and reliability among on-field devices and the remote server.
PE.AMI is an out-of-the-box, self configuring and self healing solution, so it is particularly easy to implement, maintain and manage. Being totally independent from devices and applications, the SFPUC will not be required to change or upgrade any of its deployed devices (meters, EV charging stations, luminaires).
Paradox Engineering and the San Francisco Public Utility Commission will discuss the pilot project and its expected outcomes during the conference "Smart Cities: the making of", to be held on November 15th at swissnex San Francisco, 730 Montgomery Street, San Francisco. The event will gather together municipalities from the Bay area, industry and academic representatives to discuss how cutting-edge technologies can contribute to shaping Smart Cities and improve public services and urban sustainability. Keynote speaker will be Professor Michael M. Hsieh, Director of Green IT Task Force and Education Training Program at US China Green Energy Council, and Instructor at UC Berkeley Extension.
The event program will also include speeches by Shannon Spanhake, Deputy Innovation Officer, San Francisco City; Barbara Hale, Assistant General Manager, San Francisco Public Utilities Commission; Sascha Haselmayer, General Director, Living Labs Global; Scott Frendt, Vice President Public Sector, CRM Solutions, Oracle; Niels Van Duinen, Global Marketing Director, Professional Outdoor Lighting, Philips; and Gianni Minetti, President and CEO, Paradox Engineering.
With this event, Paradox Engineering is also celebrating the recent opening of its new branch office in San Francisco. Headquartered in Switzerland, Paradox Engineering faced a consistent growth in the last two years and now has operations in Europe and Middle East, two offices in Far-East Asia (Singapore and Kuala Lumpur, Malaysia) and the new business seat in the United States.
The San Francisco office will leverage sales and marketing operations in North America and provide customer support. Paradox Engineering's office will be addressed at 730 Montgomery Street, San Francisco, CA 94111, co-located with swissnex San Francisco, the public-private venture endorsed by Switzerland's State Secretariat for Education and Research, whose aim is to expand education, research and innovation around the world.
About Paradox Engineering SA
Paradox Engineering SA is a highly dynamic company that pioneers technologies to enable customers unlocking the value of their data. Industrial wireless sensor networks, advanced metering infrastructures, global virtual networks are key components of Paradox Engineering's solution portfolio for any company implementing smart grid, energy management, condition and remote monitoring, industrial process monitoring, engineering and telemetry projects. Established in 2005 and headquartered in Switzerland, Paradox Engineering acts as a 'one stop shop' provider of turn key solutions and technologies on a truly global scale through a consolidated network of strategic partners.
For more information, please visit www.pdxeng.ch
Featured Product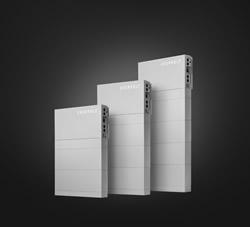 Offer homeowners best-in-class solar and energy storage in one money-saving bundle. Panasonic's new EverVoltâ"¢ Series modules come in 350W, 360W, 370W & 380W models and work seamlessly with their EverVolt battery storage - all warrantied by one of America's most trusted brands.