Tidal Today is proud to host the 3rd Annual International Tidal Today Awards during the 6th International Tidal Energy Summit to be held at the Victoria Park Plaza Hotel in London on November 22rd.
The Tidal Energy Awards allow you to vote for companies that you believe to have made a significant positive impact upon the industry. With innovative technology development, new engineering solutions and advancement towards a competitive COE, this is the time for the companies and individuals involved to be recognised for their progress.

Categories for the 2012 awards are:
• Tidal Energy Technology Innovation
• Significant Contribution 2012
• Device Developer Business Case Award
• Knowledge Sharing Award
• Installation Innovation Award
Tidal Today invites all companies that operate within the tidal energy space to nominate themselves. Whether start-up or established industrial multi-national, we want companies to be nominated that are making a significantly positive impact in the industry.
The awards ceremony will take place at The Grange Tower Bridge Hotel on Wednesday 28th November, as part of the 6th International Tidal Energy Summit. The awards ceremony will be open to all conference attendees who will also select the winners by popular vote during the first day of the conference.
If you would like to like to nominate your company or find out more details about these prestigious awards, please visit http://www.tidaltoday.com/tidal-conference/awards.php?utm_source=AltEnergyMag&utm_medium=PressRelease&utm_content=1411&utm_campaign=2189
Contact:
Will Broad
Tidal Today
+44 207 375 7516 | will@tidaltoday.com
www.tidaltoday.com/tidal-conference
Featured Product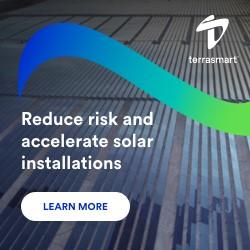 The first and only single axis tracker that allows you to turn unusable land into valuable assets. Built tough for reliable performance, TerraTrak will maximize energy output and returns conquering the most challenging sites. Employ PV where you never thought possible through durable mechanics and intelligent control technology.