CSP Today announced the winners of its CSP Today Awards 2012 at a ceremony that took place on Tuesday, 13th November, as part of the CSP Today Sevilla 2012 conference.
The winners of this year's awards include:

CSP Technology and Supplier Award
Sika
CSP Engineering Performance Award
Abengoa
CSP Dispatchability Solution Award
Torresol Energy
New for 2012: Emerging Market Achievement Award
Grupo Ibereolica
New for 2012: Industry Choice Award
Acciona
The special CSP Today Award went to Protermosolar.
The CSP Today Awards are granted to companies that excel in the industry and truly deserve an award for their great efforts on getting CSP further down the competitive route. Those exceptional companies were recognised on the 13th November during the International CSP Today Awards Ceremony in Seville, Spain.
The Awards Ceremony has been organized by CSP Today in conjunction with the 6th Concentrated Solar Thermal Power Conference and Exhibition , 13-14 November, with around 500 attendees.
For more information, please contact Bea González: bea@csptoday.com
Featured Product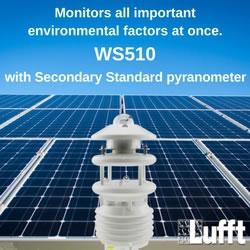 First and only Smart Weather Sensor with integrated Kipp & Zonen CMP10 Pyranometer (secondary standard). From the WS product family of professional intelligent measurement transducers with digital interface for environmental applications. Integrated design with ventilated radiation protection for measuring: Air temperature, relative humidity, air pressure, wind direction, wind speed and radiation. One external temperature or rain sensor is connectable.