Construction of the solar thermal power plant Puerta Errado 2 / Quality inspections and acceptance tests.
Cologne/Calasparra, Spain, November 15, 2012. TÜV Rheinland accompanied the construction of the first commercial solar thermal power plant, Puerto Errado 2 in Spain, as a neutral certifier. On behalf of the general contractor Novatec and the client Tubo Sol PE2, the testing service provider's specialists examined all phases of construction of the power plant as an independent certifier and accompanied the relevant quality inspections until the plant was commissioned. "Through our monitoring activities, we helped to recognize and tackle potential challenges at an early stage," says Thomas Stüber of TÜV Rheinland. Their neutral status enabled the specialists of the world's leading testing service provider in the solar industry to mediate successfully between the companies involved when there were differences of opinion. A TÜV Rheinland team will accompany the project for one more year up until the final tests.
The solar thermal power plant Puerto Errado 2 is based on what is known as Fresnel collector technology, in which steam is extracted via a collector array for energy production. The solar steam generator deployed has a mirror surface of more than 300,000 square meters. The power plant produces up to 50 million kilowatt hours of electricity per year and will cover the needs of more than 12,000 households in Spain.
TÜV Rheinland is an internationally leading testing service provider for the solar industry. The company first started laboratory-scale technical testing of solar components back in 1985. TÜV Rheinland's network of experts for the solar industry now comprises almost 300 specialists in seven laboratories worldwide. As a global market leader for the testing and certification of solar systems, TÜV Rheinland operates test laboratories in Bangalore (India), Gyeongsan (Korea), Cologne (Germany), Shanghai (China) and Taichung (Taiwan), as well as at TÜV Rheinland PTL in Tempe (USA) and Yokohama (Japan). Across the world, well over 500 manufacturers of photovoltaic products are customers of the independent testing service provider, TÜV Rheinland. Not only are the specialists involved in testing modules and components - they are also developing new test methods, collaborating on R&D projects for the use of solar energy, and assisting customers worldwide with the construction of solar power plants.
More information about test programs for photovoltaic components can be found at www.tuv.com/en/media-solar
Featured Product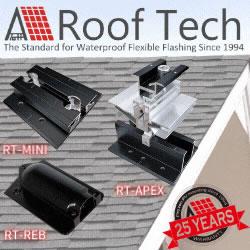 Now Roof Tech brings you the most innovative, watertight mounting systems ever developed for solar photovoltaic systems. Designed and manufactured exclusively for us by Japan's longtime leader in roofing technologies, Roof Tech products are 100% code-compliant and offer fast, simple installation and huge savings on shipping costs due to their compact, rail-less design. Learn more about our full line of versatile PV mounting solutions now available for residential installations. The next generation in rooftop solar mounting solutions."