MidNite Solar, America's number one array combiner manufacturer is proud to announce our new line of Disconnecting Combiners! These Combiners are all designed to meet, and indeed, exceed the 2011 NEC requirements. With over 60,000 combiners sold, MidNite Solar continues to lead the industry into the future with our new safer, smarter, full featured disconnecting combiners. MidNite will have 4, 6, 8, and 16 strings models available.
MidNite Solar is very pleased to announce a new line of disconnecting PV
combiners are now shipping, The DISCOS. The DISCOS are built for new code
requirements, safety, size, ease of installation, and most importantly,
pricing… to keep overall PV system costs coming down!
In designing these disconnecting combiners we put safety first. Our RED
die-cast aluminum handle provides immediate visual recognition needed in
an emergency situation to quickly disable an array.
Eight and sixteen string combiners are field configured for isolated or
non-isolated inverters. The eight and sixteen versions are also field
configurable for use with two separate inverters. Many models are
available in either Nema 3R or 4X versions and all with powder coated
aluminum enclosures.
Each disconnecting combiner is capable of interfacing with up to two of
our Emergency Disconnect Switches, the Birdhouse, located at ground level.
Communications between combiner and the Birdhouse is via 600V cat5 cable.
The disconnect assures verified visual and audible indication of PV
voltage status.
Disconnecting combiners available in 4, 6, 8 and 16 string versions.
Featured Product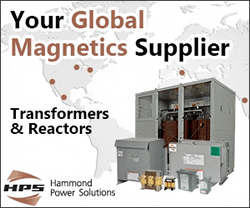 HPS is the largest manufacturer of dry-type transformers in North America. We engineer and manufacture a wide range of standard and custom transformers that are exported globally in electrical equipment and systems. We support solid industries such as oil and gas, mining, steel, waste and water treatment, and wind power generation. HPS leads the industry in these markets through its technical design strength, breadth of product, and manufacturing capabilities, making HPS a stronger company both fundamentally and financially.