QHC LED Combines Energy Efficiency and Long-Lasting Maintenance Free Operation
Precision-Paragon [P2], an industry leader in energy-efficient lighting, unveiled the QHC ó the newest generation of LED, high-bay lighting fixture -- during NALMCO's 59th annual Convention and Trade Show in Rancho Mirage Oct. 14 through 17.

The fixture uses the latest LED technology to provide 12,483 lumens using just 135 watts, less than 30 percent of the electricity required for an equivalent traditional metal halide fixture. The optimally designed, two-piece cast aluminum housing is smaller, lighter and more compact for easier installation and serviceability.
"In developing the QHC, we focused on insuring field serviceability of the driver and light engines to make it easier for the end user and our customers alike in the event maintenance should be needed," said Joe Martin, [P2] Vice President and General Manager.
The QHC is designed to maximize performance and reduce wattage in unconditioned areas where heat can be an issue. An integrated, vertical, heat sink structure with flow-through cooling reduces LED junction temperatures for enhanced reliability.
Low wattage combined with intelligent, integrated controls featuring instant re-strike and occupancy sensors can drastically reduce energy usage creating significant cost savings for end-users.
The QHC features configurable light distribution to accommodate a variety of industrial and commercial lighting applications. QHC optics insure an even distribution of light with a low max/min ratio to meet IESNA light level standards. Fixtures for wet and dry applications are available.
About Precision-Paragon [P2]: For over 20 years, [P2] has made high-quality, indoor-and-outdoor light fixtures for a wide range of applications in retail, commercial and industrial spaces. [P2]'s energy-efficient lighting drastically cuts energy consumption, creating big cost savings and significant environmental benefits.
Over the last two decades, [P2] has earned a reputation for going the extra distance in customer support by producing high quality, American-made products. [P2] products are manufactured in Gainesville, Fla., Hudson, Wis., and at the company's headquarters in Yorba Linda, Calif.
Web site: www.p-2.com
About NALMCO: The interNational Association of Lighting Management Companies has been the voice of the lighting industry since 1953. Over the course of six decades, NALMCO has been on the cutting edge of technological advances and best practices in the lighting industry. The association offers opportunities to members for networking, certification and referrals and provides a forum to facilitate new ideas and business opportunities within the lighting industry.
More information: www.nalmco.org.
###
Featured Product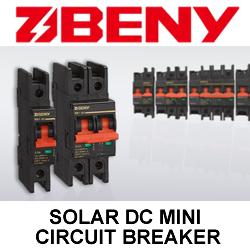 The BB1-63 modular miniature circuit-breakers can be used in solar DC circuits up to 1200 VDC (4-poles execution). Application in solar DC circuits, battery energy storage systems and UPS. Arc flash barrier design keeps solar equipment more safe and reliable. For DC circuit over-current protection.