The Acu-Link platform records data using precision sensors positioned in your local environment
LAKE GENEVA, WIS – Nov. 15, 2012 – AcuRite, a leader in personal weather reporting instruments, today announced the release of its Acu-Link platform for remote monitoring of environmental conditions. Redefining how consumers stay connected with the places and things they care about, Acu-Link enables users to observe indoor and outdoor elements including temperature, humidity, wind, rainfall, water temperature, atmospheric pressure, the weather forecast and more. The Acu-Link platform records data using precision sensors positioned in your local environment, and then transmits your sensor's data over the internet, where it can be viewed from a PC, laptop, smartphone, tablet and tabletop display.

Acu-Link data can be monitored privately, shared with family and neighbors, or be reported to online weather communities. The Acu-Link online portal and app feature a customizable dashboard and intuitive user interface, designed for easy trend observation, graphic charting, and historical data storage. Get notified of changing conditions by email or text message using Acu-Link's programmable alerts, which can be triggered by events like excessive rainfall, oncoming storms, frost warning, high wind speed and more. Acu-Link is accessible at Acu-Link.com, and can be downloaded as a free app for Apple iOS and Android mobile devices.
How it works
The Acu-Link platform sets up easily and in minutes.
· Acu-Link compatible sensors can be positioned outdoors or indoors in the location(s) you'd like to monitor conditions.
· Once positioned, the sensor(s) wirelessly transmit data to the Acu-Link Internet Bridge.
· The Acu-Link Internet Bridge plugs into your Internet router and reports your sensor data to "the cloud", or Acu-Link servers.
· Access Acu-Link from a mobile device by downloading the free app from the iPhone App Store or Google Play store.
· Acu-Link can be accessed on a PC, laptop or tablet with a web browser by visiting http://www.acu-link.com.
The Acu-Link internet bridge can receive data for up to 3 AcuRite sensors simultaneously. A variety of Acu-Link compatible sensors are available, all featuring a 330 ft. wireless range, durable weather-resistant construction and strong signal penetration for transmission through walls and long distances. AcuRite's proprietary 5-in-1 sensor incorporates 5 features into one sensor, including temperature, humidity, rainfall, wind speed and direction.
Acu-Link is positioned to be the largest knowledge network ever established using personal weather station sensors.
Pricing and Availability:
AcuRite's Professional Weather Center with Acu-Link Remote Monitoring includes the bridge, 5-in-1 sensor and tabletop display, and retails for $199.99. The Acu-Link Internet Bridge retails for $79.99 with add-on sensors ranging from $7.50 to $65.00. Acu-Link products will be available through AcuRite.com in November 2012.
For more information, please visit: http://www.acurite.com/acu-link
About AcuRite
AcuRite is owned by the Chaney Instrument Company and has been producing the leading precision time, temperature and personal weather reporting and forecasting instruments since 1943.
From digital window thermometers to professional backyard weather forecasting stations, AcuRite's easy-to-use weather products consistently deliver accurate and reliable information so you can plan your day with confidence. AcuRite weather products are tailored to every niche including gardeners and hobby farmers, food services, school science programs, outdoor enthusiasts, and homeowners seeking localized data. AcuRite offers top quality rain gauges, barometers, hygrometers, thermometers, pool thermometers, wireless weather instruments, weather stations and weather forecasters.
Featured Product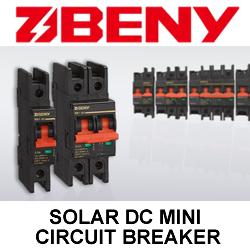 The BB1-63 modular miniature circuit-breakers can be used in solar DC circuits up to 1200 VDC (4-poles execution). Application in solar DC circuits, battery energy storage systems and UPS. Arc flash barrier design keeps solar equipment more safe and reliable. For DC circuit over-current protection.