Volta and its sponsors have given away over 62,000 miles of charging during more than 2,000 free sessions at the Volta Network
HONOLULU – www.VoltaCharging.com – Volta Industries (Volta) today announced as of Nov. 1 it has given away over 62,000 miles of charging during more than 2,000 free charging sessions via its 10 Electric Vehicle (EV) charging stations, part of the Volta Network.

"Thanks to our sponsors, EV drivers on Oahu have saved the equivalent of $10,000 in gasoline charges, offsetting enough CO2 to fill 10 Washington Monuments," said Scott Mercer. "With new stations being installed each month across Oahu, we expect that number to shoot even higher, to give away more than half a million miles in Hawaii in 2013."
Volta designs, installs and maintains EV charging stations and provides the energy to the EV driver, all free of charge. Companies such as Central Pacific Bank, Cutter Mitsubishi, First Insurance and RevoluSun purchase a sponsorship of the vTower, an aesthetically pleasing charging kiosk that can support a sponsor both on the front and the back. The stations are designed by Volta and assembled in Hawaii. They are able to provide approximately 15 to 20 miles worth of range per hour of charging.
"Range anxiety, or the fear of running out of a charge, seems to be one of the biggest roadblocks to those considering an EV," Mercer said. "As we expand this free charging network, that anxiety diminishes and people are more likely to turn to EVs, which are much better for the environment."
With ten free EV charging stations in the Volta network, the emerging technologies firm expects to have several dozen EV charging stations in up to 30 locations on Oahu by summer 2013.
Electric vehicle sales have been strong in Hawaii; the state saw the highest per-capita sales of electric vehicles in the nation in 2011. There are 1,016 electric cars registered on Oahu, according to state figures as of October 1, 2012.
About Volta Industries
Founded in 2010 by Hawaii entrepreneurs Chris Ching, Scott Mercer and Michael Menendez, Volta Industries LLC has a proven track record in the design and installation of EV charging projects in Hawaii and California, including the first charging station for the State of Hawaii installed at the capitol in July 2011. Volta's proprietary business model is the first of its kind worldwide. Through the Volta Network, powered by Eaton, Volta designs, installs and maintains the EV charging stations and provides the energy to the EV driver, all free of charge. For more information about Volta, please visit www.voltacharging.com or call (888) 264-2208.
Featured Product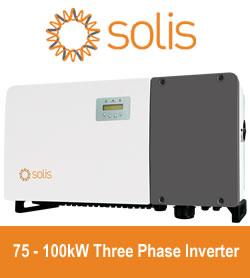 Solis75kW - 100kW series high-power string inverters are widely used in industrial and commercial rooftops. Solis's new three-phase string inverter is the first choice for industrial and commercial photovoltaics. 75-100kW three phase series string inverter have Maximum 28 strings input, support "Y" type connection in DC side. Maximum string input current 13A, support bifacial modules access.Supports anti-PID function to improve system efficiency.