ZephIR can be considered as a valid stand-alone system for wind resource assessments
The Energy research Centre for the Netherlands (ECN) has completed a 12 month offshore measurement campaign with the novel ZephIR 300 system as part of a 4 year campaign within the Dutch project "Meteorological Research Wind at Sea" where the ZephIR has been compared against the 108 metre Met Mast Ijmuiden (MMIJM) at the ECN Wind Turbine test facility EWTW.

During a 60 week continuous period availability of the ZephIR was measured at over 98%, with the only period of unavailability being attributed to a mast power supply failure from which the ZephIR was being powered.
Correlations during the measurement period were excellent and as such data has been delivered to the Wind energy industry on behalf of the Netherlands Ministry of Economic Affairs, Agriculture and Innovation. ECN's initial conclusion is that ZephIR can be considered as a valid stand-alone system for wind resource assessments, especially given the industry's tendency towards higher hub heights.
The core technology behind ZephIR – continuous wave lidar – allows for very low measurements down to just 10 metres from installed level, essential on offshore platforms, such as this installation, which are already raised well above sea level. Minimising the deck space required by the remote sensing device in this deployment took advantage of one of the many benefits of continuous wave lidar. With up to 50 samples taken from the full 360 degree scan, losing just a few samples where the scan intercepts the structure has no adverse effect on the data gathered.
Commenting on the project, ECN's Wind Energy Coordinator of Experiments & Measurements, Henk Oostrum noted: "ZephIR is very capable of providing high quality, 10 minute average wind speed and direction data at all heights well above traditional tall mast heights. Correlation is excellent to our IEC compliant mast and site. ZephIR can therefore be considered, in our initial opinion, to be used in a stand-alone application for wind resource measurements."
Measurements at the EWTW and MMIJM are in accordance with IEC 61400-12. All masts are equipped with Thies class 1 cup anemometers and wind vanes as well as WindSensor p2456a cup anemometers. All calibrations are performed in a MEASNET approved wind tunnel and are covered by ISO 17025 ILAC accreditation.
On the announcement, Ian Locker, MD at Zephir Ltd. commented: "This is an exciting development in the ZephIR program – we never imagined that we would actually be operating within a met mast structure. The work that ECN has done independently, and now publicly, verifies not only the excellent core performance of ZephIR compared to a mast but also the ability to be deployed in this unique way. In both onshore and offshore applications, ZephIR has been proven to operate in a stand-alone manner providing finance-grade wind measurements for the progression of wind farm development and on-going performance analysis and optimisation."
About ECN
A bridge between energy research and the market.
ECN develops high-quality knowledge and technology for the transition to sustainable energy management. And ECN introduces this knowledge and technology to the market. Our focus is on energy conservation, sustainable energy and an efficient and clean use of fossil fuels.
Visit www.ecn.nl for more information.
About Zephir Ltd.
In 2003 we released the first commercial wind lidar, ZephIR®, exploiting decades of research at UK government Research & Development establishment QinetiQ. Designed specifically for the wind industry ZephIR has paved the way for many of the remote sensing devices seen in the market today. Our original lidar technology continues to innovate with world firsts such as taking measurements from a wind turbine spinner and being the first to deploy an offshore wind lidar, both fixed and floating. ZephIR has also now amassed more than 3 million hours of operation across 650+ deployments globally spanning a decade of commercial experience. For wind measurements onshore, offshore and in turbine-mounted applications, ZephIR provides accurate, reliable finance-grade wind data.
Zephir Ltd. is a wholly owned subsidiary of Fred. Olsen Ltd. - established in the UK in 1963 with business interests primarily focussed on renewable energy, including ZephIR.
Visit www.zephirlidar.com for more information
Featured Product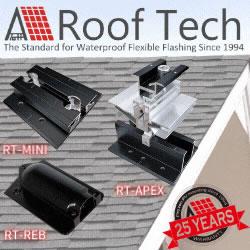 Now Roof Tech brings you the most innovative, watertight mounting systems ever developed for solar photovoltaic systems. Designed and manufactured exclusively for us by Japan's longtime leader in roofing technologies, Roof Tech products are 100% code-compliant and offer fast, simple installation and huge savings on shipping costs due to their compact, rail-less design. Learn more about our full line of versatile PV mounting solutions now available for residential installations. The next generation in rooftop solar mounting solutions."