70 – 100 amp UL/IEC solar fuse; 3.5 amp in-line fuse
CHICAGO--Littelfuse, Inc., the global leader in circuit protection, today announced two new products for protection of solar installations.

The new SPFJ 70–100 amp fuses complete the SPFJ series of 1000VDC fuses approved to the new UL Photovoltaic fuse standard – UL2579. The fuses are in a standard 200 amp Class J form factor and meet the electrical tests for the new IEC photovoltaic fuse standard 60269-6.
The SPFJ 70–450 amp fuses are designed for global applications to provide protection in array-combiners and inverters in photovoltaic and concentrated photovoltaic systems up to 1000V. The fuses are smaller and more energy efficient than similar alternatives currently in the market, and are designed for a variety of holders including stud-to-stud, fuse clip-to-box lug, and a soon-to-be-released fuse clip-to-stud holder for easy replacement.
The company also released a new patent-pending SPFI in-line fuse for string protection. The SPFI is listed to UL2579 and meets the electrical performance requirements of IEC 60269-6. The SPFI fuse is a 3.5 amp fuse designed for integration into solar cables for protection of solar strings connecting combiner boxes and panels. The first in a line of fuses up to 20 amps, the SPFI fuse features the same protection and reliability currently found in Littelfuse SPF and KLKD string-protection fuses of which millions of units have been installed globally. The SPFI is less than 44 mm in length and 10.3 mm in diameter and is designed to be over-molded into electrical cable for 1000 VDC solar installations.
The SPFJ Series and SPFI are part of a comprehensive offering of circuit protection products including fuses, relays and TVS diodes that Littelfuse offers for protection of solar installations. All of these products are featured in the new Solar Products Catalog and on the Littelfuse website: littelfuse.com/solar.
About Littelfuse
Founded in 1927, Littelfuse, Inc., the worldwide leader in circuit protection, offers the industry's broadest and deepest portfolio of circuit protection products and solutions. Littelfuse devices protect products in virtually every market that uses electrical energy, from consumer electronics to automobiles to industrial equipment. In addition to its Chicago, Illinois, world headquarters, Littelfuse has more than 30 sales, distribution, manufacturing and engineering facilities in the Americas, Europe and Asia. Technologies offered by Littelfuse include Fuses; Gas Discharge Tubes (GDTs); Positive Temperature Coefficient Devices (PTCs); PulseGuard® ESD Suppressors; SIDACtor® Devices; Silicon Protection Arrays (SPA®); Switching Thyristors; TVS Diodes and Varistors. The company also offers a comprehensive line of highly reliable Electromechanical and Electronic Switch and Control Devices for commercial and specialty vehicles and Sensors for automobile safety systems, as well as Protection Relays and underground Power Distribution Centers for the safe control and distribution of electricity.
For more information, please visit the Littelfuse website: littelfuse.com.
Featured Product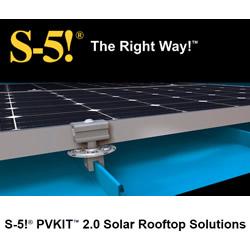 The concept of combining PV arrays with standing seam metal roofing is growing-for good reasons. Metal roofs have a life expectancy of more than 40 years. Shouldn't the mounting system last as long? With S-5! zero-penetration attachment technology and PVKIT 2.0, the solarized metal roof is the most sustainable system available -and without compromising roof warranties! PVKIT 2.0 is the also the best solution for attaching PV modules directly to any exposed fastener metal roof.