New wind power service agreement signed in Canada
Siemens Canada Ltd. has been awarded a long-term wind power service contract for 48 SWT-2.3-93 and 40 SWT-2.3-101 wind turbines at Kruger Energy's Port Alma and Chatham Kent wind energy plants in Ontario, Canada. The agreement is Siemens' first 10-year wind service contract extension in Canada and includes the company's blade modernization product, the Power Curve Upgrade, for the 44 SWT-2.3-93 units at Port Alma and the four SWT-2.3-93 units at Chatham Kent.

Under the agreement, Siemens will provide 10 years of service and maintenance along with an availability guarantee as an extension to the existing four-year service agreement for Port Alma and to the existing two-year service agreement for the Chatham Kent wind energy plant. Siemens will also install its Power Curve Upgrade on the SWT-2.3-93 turbines at both projects. At approximately 100 megawatts (MW) each, the Port Alma and Chatham Kent wind projects, located on the shores of Lake Erie, combined produce enough electricity to power approximately 60,000 Ontario households annually.
"As the original equipment supplier of the wind turbines for the Port Alma and Chatham Kent wind energy plants, Siemens has the experience and proven expertise to help Kruger Energy obtain favorable wind turbine performance throughout their lifecycle with flexible, reliable and cost effective solutions," said Tim Holt, CEO, Service Renewables, Energy Service Division, Siemens Energy. "We look forward to working with Kruger Energy as their service provider for these important renewable energy projects, which provide clean energy to homes in Canada."
Siemens has created a flexible service product portfolio that allows wind turbine owners to choose the level of support to match their needs. The Siemens service program focuses on providing a tiered range of services to help customers achieve high availability throughout the lifecycle of the wind turbines and wind farms.
The Siemens Energy Sector is the world's leading supplier of a broad spectrum of products, services and solutions for power generation in thermal power plants and using renewables, power transmission in grids and for the extraction, processing and transport of oil and gas. In fiscal 2012 (ended September 30), the Energy Sector had revenues of EUR27.5 billion and received new orders totaling approximately EUR26.9 billion and posted a profit of EUR2.2 billion. On September 30, 2012, the Energy Sector had a work force of almost 86,000. Further information is available at: www.siemens.com/energy.
Featured Product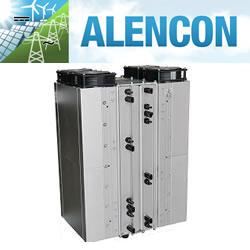 Alencon Systems is the premier manufacturer of high power, high voltage DC:DC optimizers for alternative energy applications including solar, battery energy storage, Microgrids, Fuel Cells and Electric Vehicle charging. Alencon's DC:DC converter offerings include the SPOT, BOSS and CUBE series DC:DC converters. The SPOT is a modular, uni-directional DC:DC solution ideal for solar applications. The BOSS is a modular, bi-directional unit for use with battery energy storage. The CUBE is a monolithic DC:DC converter which is available in both uni-directional and bi-directional modalities. Pictured above, is the Alencon SPOT.