$130,000 donation from Green Mountain Energy Sun Club provides renewable energy to new on-site education complex
Brownsville, TX December 06, 2012

The Gladys Porter Zoo and Green Mountain Energy™ Sun Club™ "flipped the switch" on the zoo's first solar energy installation thanks to a $130,000 donation from the Sun Club. The Sun Club is a unique program enabling Green Mountain residential customers to provide solar power and educational information to non-profit organizations, like Gladys Porter Zoo.
The 16-kilowatt solar array is made up of 121 solar panels and measures more than 1,500 square feet. It sits on the roof of the zoo's new South Texas Discovery Center, which will house classrooms and other educational resources. The array is expected to generate 21,900 kilowatt-hours of pollution-free energy and avoid 25,400 pounds of carbon dioxide (CO2) each year. The amount of CO2 avoided annually is the equivalent of not driving 28,300 miles. Over the course of its lifetime, the solar installation is expected to save the zoo $484,000 which the zoo can use for its facilities and educational efforts.*
"We thank the Sun Club for its generous donation so that renewable energy can help power our new South Texas Discovery Center and visitors can learn more about how solar energy works," said Dr. Patrick M. Burchfield, Director, Gladys Porter Zoo. "We're an organization that is dedicated to education and the conservation of nature, so being able to extend that mission into our facility needs is something we're so pleased to bring as a benefit to our visitors and our operations."
The solar array is one of the first to power a zoo in South Texas and is also the first one donated by the Sun Club in Brownsville. The construction of the complex that houses the solar array is expected to be complete in 2013 and will feature a sign about the array where visitors can learn more. The zoo's website will display real-time electricity output data from the solar array.
"I'm proud to be here today to dedicate our first solar installation in Brownsville to the Gladys Porter Zoo," said Tony Napolillo, Sun Club Program Manager, Green Mountain Energy Company. "This installation would not be possible without the monthly contributions of our customers and is a testament to their dedication to renewable energy. We're proud to help the zoo reduce its electricity costs and put more resources towards their mission of wildlife conservation."
Pictures from the event will be added to Green Mountain Energy's Flickr stream:
http://www.flickr.com/photos/greenmtnenergy/
Gladys Porter Zoo
The Gladys Porter Zoo is a visitor-oriented zoological and botanical park, dedicated to the preservation of nature through education, conservation and research. The Zoo is open every day and its hours of operation are 9:00 a.m. to 5:00 p.m. Monday through Sunday. Regular admission for adults is $9.50 (ages 14 – 64), $6.50 for children (ages 2 to 13) and seniors 65 and over receive a discounted admission of $8.00. Children 1 and under are free. For more information, visit http://www.gpz.org or contact the Zoo at (956) 546-7187.
Green Mountain EnergyTM Sun ClubTM
Green Mountain EnergyTM Sun ClubTM is a program where Green Mountain residential customers in New York, Pennsylvania and Texas have the opportunity to give back to deserving non-profit organizations through the promotion of solar power. Direct monthly contributions from customers go toward the funding of solar installations. Since the program's founding in 2002, Sun Club members have helped install more than 500 kilowatts of solar power, preventing over 787,300 pounds of CO2 emissions each year. That's like not driving 878,500 miles or 390 households turning off their lights for a year. For more information, visit http://www.gmsunclub.com.
Green Mountain Energy Company
Green Mountain is the nation's longest serving renewable energy retailer and believes in using wind, sun and water for good. Founded in 1997, the company is a green power pioneer and celebrates 15 years delivering on the mission to "change the way power is made". Green Mountain offers consumers and businesses the choice of cleaner electricity, as well as carbon offsets and sustainable solutions for businesses. One of Green Mountain's largest customers is the "world's most famous office building," the Empire State Building in New York City. Green Mountain customers have collectively helped avoid over 19.4 billion pounds of carbon dioxide CO2 emissions. Visit us online at http://www.GreenMountain.com and learn more about our campaign for good at http://www.greenmountain.com/forgood.
Featured Product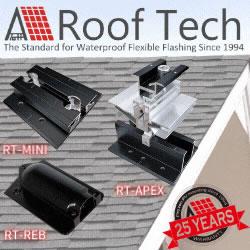 Now Roof Tech brings you the most innovative, watertight mounting systems ever developed for solar photovoltaic systems. Designed and manufactured exclusively for us by Japan's longtime leader in roofing technologies, Roof Tech products are 100% code-compliant and offer fast, simple installation and huge savings on shipping costs due to their compact, rail-less design. Learn more about our full line of versatile PV mounting solutions now available for residential installations. The next generation in rooftop solar mounting solutions."