A123 also Reaches Agreement to Sell Government Business Assets to Navitas Systems; A123 to Seek Court of Approval of Transactions at a Hearing Scheduled for December 11, 2012
WALTHAM, Mass.--A123 Systems, Inc., ("A123" or "the Company"), a developer and manufacturer of advanced Nanophosphate® lithium iron phosphate batteries and systems, today announced that it has reached agreement on the terms of an asset purchase agreement with Wanxiang America Corporation ("Wanxiang") through which Wanxiang would acquire substantially all of A123's assets for $256.6 million. The agreement was reached following an auction conducted under the supervision of the United States Bankruptcy Court for the District of Delaware (the "Court"). A hearing at which A123 and Wanxiang will seek the required Court approval of the sale is scheduled for Tuesday, December 11, 2012.

According to the terms of the asset purchase agreement, Wanxiang would acquire A123's automotive, grid and commercial business assets, including all technology, products, customer contracts and U.S. facilities in Michigan, Massachusetts and Missouri; its cathode powder manufacturing operations in China; and its equity interest in Shanghai Advanced Traction Battery Systems Co., A123's joint venture with Shanghai Automotive. Excluded from the asset purchase agreement with Wanxiang is A123's Ann Arbor, Mich.-based government business, including all U.S. military contracts, which would be acquired for $2.25 million by Navitas Systems, a Woodridge, Ill.-based provider of energy-enabled system solutions and energy storage products for commercial, industrial and government agency customers.
"As we had hoped, the auction process for A123's assets was robust and competitive. We are pleased with the result of the auction and believe that the selected bids from Wanxiang and Navitas maximize the value of A123's assets for the benefit of our stakeholders. We expect that the sale will be approved by the Court, at which time we plan to execute the separate asset purchase agreements with Wanxiang and Navitas," said Dave Vieau, Chief Executive Officer of A123. "We think we have structured this transaction to address potential national security concerns expressed during the review of our previous investment agreement with Wanxiang announced in August as well as to address concerns raised by the Department of Energy. We believe this transaction balances those risks with A123's obligation to act in the best interest of our creditors."
Based in Chicago, Wanxiang America has been in the automotive and industrial markets in the U.S. since 1994 and currently has more than 3,000 employees in the U.S. It is a subsidiary of Wanxiang Group, China's largest automotive components manufacturer and one of China's largest non-state-owned companies, and Wanxiang also continues to expand its interest in clean technology, and A123 is Wanxiang's fifth clean energy investment in the U.S. in 2012.
"We believe that A123's industry-leading technology for vehicle electrification, grid energy storage and other industries complements Wanxiang's strong R&D and manufacturing capabilities, so we think adding A123 to our portfolio of businesses strongly aligns with our strategy of investing in the automotive and cleantech industries in the U.S.," said Pin Ni, president of Wanxiang America. "We plan to build on the engineering and manufacturing capabilities that A123 has established in the U.S. and we are committed to making the long-term investments necessary for A123 to be successful."
The completion of the sale to Wanxiang is subject to certain closing conditions, including approval from the Court as well as from the Committee for Foreign Investment in the United States (CIFIUS). Because the total purchase price for A123's assets would be less than the total amount owed to creditors, the Company does not anticipate any recoveries for its current shareholders and believes its stock to have no value.
Additional information is available on A123's website at www.a123systems.com or by calling A123's Restructuring Hotline, toll-free in the U.S., at 1-800-224-7654. For calls originating outside the U.S., please dial +1 973-509-3190. Court documents and additional information can be found at a dedicated website administrated by the Company's Claims Agent, Logan & Company: www.loganandco.com.
About A123 Systems
A123 Systems, Inc. is a leading developer and manufacturer of advanced lithium-ion batteries and energy storage systems for transportation, electric grid and commercial applications. The company's proprietary Nanophosphate® lithium iron phosphate technology is built on novel nanoscale materials initially developed at the Massachusetts Institute of Technology and is designed to deliver high power and energy density, increased safety and extended life. A123 leverages breakthrough technology, high-quality manufacturing and expert systems integration capabilities to deliver innovative solutions that enable customers to bring next-generation products to market. For additional information please visit www.a123systems.com.
Featured Product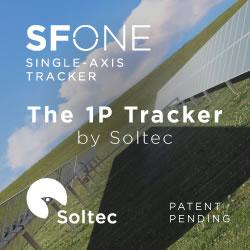 SFOne is the 1P single-axis tracker by Soltec. This tracker combines the mechanical simplicity with the extraordinary expertise of Soltec for more than 18 years. Specially designed for larger 72 an 78 cell modules, this tracker is self-powered thanks to its dedicated module, which results into a lower cost-operational power supply. The SFOne has a 5% less piles than standard competitor, what reduces a 75% the labor time.