The Wind operations and maintenance (O&M) industry continues to grow in Europe. The Wind O&M Forum in Hamburg, Feb 19-20 is proof of this evolution as large wind energy companies join as sponsors and exhibitors in order to capitalise on this growth area.
As wind turbines approach the end of their initial warranty periods, a vast proportion of wind farm owners now have to look at the options available to them in order to assume control of their own assets. A large part of this is to make sure they work with the right companies to optimise their fleet performance and minimise downtime, all at an acceptable cost.

These pan European wind farm owners are due to gather in Hamburg on Feb 19-20, joined by sponsors; GE, REpower, Romax Technologies, Exxon Mobil, A2Sea, Houlder and more, to discuss, debate and develop coherent and effective management strategies to optimise O&M, achieve higher availability and reduce unnecessary OPEX spend.
End of warranty options.
The business case for 2013 takes shape as two industry discussions that focus on both onshore and offshore run in tandem, alongside an exclusive exhibition that will allow companies including turbine OEMs, component manufacturers, data analysis, weather prediction and condition monitoring experts to showcase their experience in front of the Power Producers.
Just a small sample of the confirmed delegates so far include directors from the likes of Enel Green Power, Agder Energi, Belwind, E.ON Climate & Renewables, RWE Innogy, Juwi, Axpo Power, NoordzeeWind, the London Array and many more.
Exhibition space, opportunities to speak and brand visibility options still remain, but these will run out fast. For more information on the event, or to become an exhibitor, speaker or sponsor, contact:
Tim Lovatt
Head of Business Development
Wind Energy Update
T. +44 (0)207 375 7218 (Direct) | E. tim@windenergyupdate.com
T. 1800 814 3459 ext 7218 (USA)
W. www.windenergyupdate.com
Featured Product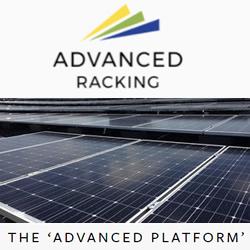 The 'Advanced Platform' simplifies the installation process by using universal mounting hardware that works perfectly across all roof types. Smart roof connection kits then connect to the specific roof's surface. The Advanced Platform is versatile: Our common design can be your single solution for all roof types.