The HPL-2400 provides customers with a versatile, precision high-power load designed for high reliability and repeatable testing results.
FORT COLLINS, Colo.--IXYS Corporation (NASDAQ:IXYS), a leader in power semiconductors, mixed-signal and digital ICs for power conversion and motion control applications, announced today the introduction of the HPL-2400 High-power Laser Diode Emulator and Load by its IXYS Colorado division. This module can dissipate up to 2400 watts of power at precise load configurations to match any number of laser diodes and other high-power loads.

"The HPL-2400 provides customers with a versatile, precision high-power load designed for high reliability and repeatable testing results. By utilizing the HPL-2400 rather than a high-power laser diode when testing fixtures, diode drivers or characterization setups, users can eliminate the risk to expensive diodes and obtain data using known load characteristics. Furthermore, this product is a high power dissipation load that can help our customers in testing and developing other power systems products," commented Stephen Krausse, General Manager IXYS Colorado.
The HPL-2400 product line features allow flexible, reliable, high-power loads that meet demanding needs with a standard product. Seven standard load values including .125, .250, .500, 1, 2, 5 and 10 ohms are available. Custom values from .125 to 250K ohms can be configured at the factory in order to directly match specific load characteristics (i.e. laser diode). The status monitor allows users to monitor the temperature of the heat sink and provides a warning when the temperature exceeds 60C. The module is enclosed to protect the components and ensure reliable, long-term use. Liquid cooling and a 2400 watt load rating allow for use in a wide variety of applications from very low power to the full rating of the module. The low-inductance design enables the testing of high-speed pulsed applications.
HPL-2400 Features:
*2400 watt resistive load
*Ring lug or DSUB connections
*Very low-inductance for use in fast rise and fall time pulsed applications
*RoHS compliant
*Liquid cooled
*Self contained and enclosed
*7 standard models
*Factory configurable variations from .125 ohms to 250K ohms
*Status connection monitors heat sink temperature and provides high temperature warning
The HPL-2400 is available directly from IXYS Colorado (Directed Energy) Tel. (970) 493-1901, Fax (970) 232-3025, Email sales@ixyscolorado.com, http://www.ixyscolorado.com or through your local authorized IXYS/IXYSRF sales representative.
About IXYS
IXYS Corporation develops and markets primarily high performance power semiconductor devices that are used in controlling and converting electrical power efficiently in power systems for the telecommunication internet infrastructure, motor drives, medical systems, solar energy, wind energy, electrical generators and transportation. IXYS also serves its markets with a combination of digital and analog integrated circuits, RF power products and power subsystems including application-specific, embedded system-on-chip (SoC) solutions for the industrial and consumer markets.
Featured Product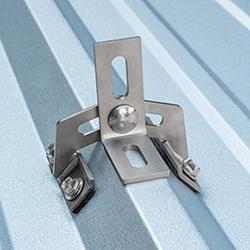 Explore new lines of income for your solar installation business with QuickBOLT's Stone Coated Steel roof mounts designed in partnership with metal roof manufacturers themselves. These SCS roof mounts work on all metal tile profiles and will help you bring in money you're missing out on. By not driving into the roofing material, QuickBOLT's Stone Coated Steel roof hooks maintain the integrity of the roof. Install with ease and confidence knowing your roof is protected against the harsh elements that these hooks are designed for.