New partnership adds to project in San Antonio supplying 400 MW solar power to 70,000 households; increases new jobs by 70
SAN ANTONIO (Dec. 03, 2012) – KACO new energy, a global inverter manufacturer headquartered in Germany, and OCI Solar Power, a leading solar power developer, finalized a partnership to construct the largest photovoltaic solar power project in the Lone Star State. This mega-project will account for sales to KACO new energy of about $500 million throughout the next ten years.

CPS Energy, the utility company for the seventh largest city in the United States, awarded the construction of these projects to OCI Solar Power in July. In its search for the best possible inverters for this ambitious project, OCI Solar Power decided on the well-respected XP series of the German inverter manufacturer, KACO new energy. Like the consortium partners Nexolon and ERCAM Trackers, KACO new energy will set up its own manufacturing plant in San Antonio, creating more than 70 new jobs. The positions are part of the 800-plus jobs that will be created in San Antonio as part of a 400 megawatt solar project.
"We are pleased to have found the ideal partner in KACO new energy," said Anthony Dorazio, president, OCI Solar Power. ″We place a great deal of value on approaching all projects in a uniform, environmentally-responsible manner and tailored to the needs of the community. Manufacturing solar inverters from KACO new energy on-site will also create secure long-term jobs in San Antonio."
Dorko Eliaszewskyj, CEO of KACO new energy USA said, "We are proud to be able to set a new milestone for the good of the San Antonio citizens under the direction of such a professional and committed partner as OCI Solar Power."
In their outdoor version with external transformers and an additional AC circuit-breaker on the baseplate, KACO new energy's central inverters will be assembled to form functional units called IPS (Integrated Power Stations). The first 50 MW of solar energy will already be fed into the San Antonio grid by late 2013. The total will be increased to 400 MW by 2016. By then, the combined sub-plants will supply electricity for approximately 70,000 households in Greater San Antonio, representing one-tenth of CPS Energy's electric customers.
With this project, Texas is projected to climb in the ranks of the top five solar power producing states. Four hundred MW corresponds to four percent of the total U.S. photovoltaic market and will double the previously installed PV output in the State of Texas. With the completion of the project in 2016, CPS Energy will have achieved its goal of supplying 1,500 MW of clean energy output a few years earlier than its self-mandated target of 2020.
About OCI Solar Power
OCI Solar Power, headquartered in San Antonio, Texas, is currently developing more than a gigawatt of solar photovoltaic projects throughout the U.S. Working collaboratively with communities, OCI Solar Power creates partnerships that generate sustainable green energy, create jobs and increase energy independence. For more information, visit www.ocisolarpower.com.
About KACO new energy
KACO new energy is a powerful global leading partner for PV system solutions and has built a tradition of excellence in the photovoltaic inverter and power electronics industries. The German-based factory engineers have been developing, designing and manufacturing current inverters and power electronics for more than 60 years.
The KACO new energy blueplanet product family has set new standards in photovoltaic applications – particularly in reliability, efficiency, power density, and patented technology to meet NEC requirements. As the heart of photovoltaic installation, the KACO new energy inverter pumps electricity into the public grid continuously and efficiently. The efficiency of the KACO new energy blueplanet inverters will earn money and a solid return on solar investment. Additional information about KACO new energy is available at www.kaco-newenergy.com.
Featured Product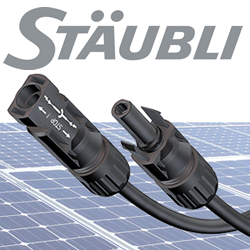 ​Stäubli Electrical Connectors are used on more than 300 GW, over 50% of the PV capacity worldwide. The MC4 family of UL and TUV listed products include connectors, in-line fuses, branch connectors, cable assembly and more.