NEWBURYPORT, MA (November, 2017) — Mersen will display its complete portfolio of 600V to 1500VDC components for the growing solar market during Solar Canada, December 4th - 5th in Toronto, Ontario, Canada.
New for 2017! 1500V and 1000V Crimp cap and NH style fuses with blown fuse indicators. A special cap is applied to the fuse ferrules of our existing HP10M and HP15M fuses to enable the user to attach wires directly to the fuses. This obviates the need for a fuse holder and allows an overmolded enclosure which will help to bring down the cost of the installation.

With a dedicated range of products to disconnect, clip and isolate, that includes string and NH style fuses, supporting fuse gear, surge protective devices (SPDs), power distribution blocks (PDBs), and switches, Mersen is taking all the appropriate measures to shield the wiring between strings and protecting system components. Thanks to our continually growing and innovative HelioProtection® product line, faulty circuits are safely isolated and system longevity and reliability are increased allowing for continuous generation of clean and efficient power.
By offering a complete portfolio of 600V, 1000V and 1500VDC PV products, Mersen has the ability to partner with customers for custom designed and integrated systems supported by a single trusted manufacturer. Customers can continue to trust Mersens commitment to outstanding customer service, technical support, and flexible delivery windows to support the rapidly growing and consistently evolving PV market.
Anyone involved in PV installations, code compliance, safety and maintenance of PV installations is encouraged to visit Mersen at booth# 823 where Mersen will have a team of technical and application engineers on hand ready to discuss your ideas and challenges. You can find additional information about Mersens products offering by visiting the Mersen website. For more information about the companys full range of electrical power solutions visit ep.mersen.com, email info.nby@mersen.com, or call 978-462-6662
------
ABOUT MERSEN
About Mersen
Global expert in electrical power and advanced materials, Mersen designs innovative solutions to address its clients' specific needs to enable them to optimize their manufacturing process in sectors such as energy, transportation, electronics, chemical, pharmaceutical and process industries. Mersen Electrical Power provides a comprehensive line of current-limiting fuses (low voltage, general purpose, medium voltage, semiconductor, miniature and glass, and special purpose) and accessories, fuse blocks and holders, power distribution blocks, low voltage disconnect switches, surge protective devices, high power switches, heatsinks, laminated bus bars, and more. For more information, call 978-462-6662 or visit ep.mersen.com.
------
PRESS CONTACT
Karen Schmuch
Marketing Communications Manager, North America
karen.schmuch@mersen.com | (978) 465-4919
Featured Product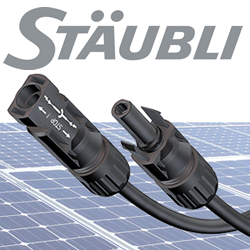 ​Stäubli Electrical Connectors are used on more than 300 GW, over 50% of the PV capacity worldwide. The MC4 family of UL and TUV listed products include connectors, in-line fuses, branch connectors, cable assembly and more.