Geostellar Expands Service to Look Up Your Potential Savings, Energy, and Environmental Benefits then Connect with Leading Solar Installers
Martinsburg, W. Va. ó Geostellar, the award winning startup that simplifies going solar, rolled out its groundbreaking online marketplace today in areas across the Mid-Atlantic, New England and West Coast. The platform gives people an instant, free and independent appraisal of the value of the sunlight that shines on each and every roof.

For the first time, people can access all the information, goods, services and support they need to make the best possible decision on a solar energy system. Leading solar installers, financers and equipment companies are all represented on the platform, making Geostellar the safest, easiest, and smartest way to go solar.
"Geostellar makes the process of going solar as safe, available and affordable as booking travel, watching videos or socializing with friends online," said Geostellar CEO David Levine. "Our installation and financing partners are best of breed, and committed to delivering the most value to the homeowner through their solar energy systems."
"Real Goods Solar is pleased to be working with Geostellar on the launch of its innovative platform," said Kam Mofid, CEO of Real Goods Solar. "As one of the nation's leading solar companies with years of commitment to 100% clean renewable energy, we look forward to this partnership to help new customers realize the wonderful economic and environmental benefits of going solar."
"Reaching the right homeowners who can most benefit from switching to solar energy is a big challenge for our industry," said Astrum Solar President and Chief Executive Officer Vadim Polikov. "Geostellar helps close this opportunity gap by offering an elegant way to connect us with a well informed public."
Geostellar's advanced 3D geo-mapping models sunlight down to the square meter - taking into account the slope and orientation of the roof and shadows from trees and nearby buildings - over the course of a full year to determine the energy-production potential of every property. Geostellar applies that data to determine the economic benefits of solar for each property based on system costs, electricity rates, incentives and usage patterns.
"Geostellar gave us a solar analysis on our home showing us the best, most productive placement for modules, estimated productivity, costs and tax incentives as well as a referral to a local solar contractor," said Debbie Royalty of Charles Town, WV, who looked up her home on Geostellar and contracted with Bill Anderson of Milestone Solar. "This was what we needed to move forward."
Geostellar's innovative service has already earned several awards including selection for the Global Cleantech 100 and the GCCA's 2012 Later Stage Award Best of Solar.
About Geostellar
Geostellar provides a vibrant online platform where the solar curious connect with energy and technology leaders to create greener and more luxurious communities. By reducing soft costs associated with going solar, Geostellar brings distributed solar generation closer to grid parity and opens new markets. Through its proprietary predictive algorithms, the company offers access to the knowledge and guidance required for residential and commercial property owners to make smarter energy decisions and save money. For more information visit: Geostellar.com
About Real Goods Solar, Inc.
Real Goods Solar, Inc. (Nasdaq RSOL) is a leading residential and commercial solar energy EPC provider, having installed over 13,000 solar systems. Real Goods Solar offers turnkey solar energy services and has 34 years of experience in solar energy, beginning with the sale in 1978 of the first solar photovoltaic, or PV, panels in the United States. With 15 offices in California, Colorado and the Northeast, Real Goods Solar is one of the largest residential and commercial solar providers in the country. For more information about Real Goods Solar, please visit RealGoodsSolar.com, or call (888) 507-2561.
About Astrum Solar
Recently ranked #2 on Inc. Magazine's list of fastest growing private companies in the nation, Astrum Solar is the leading full-service home solar provider in the Eastern U.S. With Astrum Solar, homeowners can switch to solar power for nothing or little money down and instantly take control of their utility costs and reduce their electricity bills. The company makes going solar the most rewarding and provides a premier customer experience by facilitating every aspect of a homeowner's seamless transition from traditional energy consumer to clean energy producer. Headquartered in Annapolis Junction, Md., the company operates in a dozen states including Connecticut, Delaware, Maryland, Massachusetts, Michigan, New Jersey, New York, Ohio, Pennsylvania, Virginia, Washington, D.C. and West Virginia. For more information visit www.astrumsolar.com.
About Milestone Solar
Milestone Solar is a boutique, specialized solar installer serving West Virginia, Maryland, Pennsylvania, Virginia and Ohio. Milestone's CEO, Bill Anderson, is the only installer in West Virginia certified by NABCEP, the North American Board of Certified Energy Practitioners, with the PV Technical Sales Credential. In addition to other state licenses, Bill is proud to hold Pennsylvania's Certified PV Contractor credential – whose strict criteria include actual checks of installations and customer satisfaction. Milestone limits their installs to only a few dozen a year so they focus on craftsmanship. No cut corners, no rush, just solid engineering. Bill will personally make sure your solar array goes in on time and on budget, that it performs as promised, and that it gives you a generation of trouble-free, dependable service.
Featured Product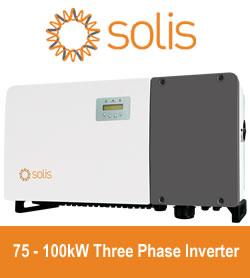 Solis75kW - 100kW series high-power string inverters are widely used in industrial and commercial rooftops. Solis's new three-phase string inverter is the first choice for industrial and commercial photovoltaics. 75-100kW three phase series string inverter have Maximum 28 strings input, support "Y" type connection in DC side. Maximum string input current 13A, support bifacial modules access.Supports anti-PID function to improve system efficiency.