Certification for salt mist, sand blast and PID testing from leading certification bodies.
Trina Solar Limited (NYSE:TSL) ("Trina Solar" or the "Company"), a leading integrated manufacturer of solar photovoltaic (PV) products, today announced that its PV modules have obtained certification for salt mist, sand blast and PID testing from leading certification bodies.

TUV NORD has certified Trina Solar's modules to the latest IEC61701:2011 Severity 1 standard for salt mist corrosion testing. Test results showed that over the entire course of testing, Trina Solar modules performed well across several indicators including ground continuity, wet leakage and insulation resistance. These results demonstrate that Trina Solar's photovoltaic modules can be reliably deployed in tough climatic environments such as coastal areas, saline soils, and areas of heavy snowfall.
Trina Solar's panels also excelled in the most rigorous blowing sand test conducted in accordance with the DIN EN 60086-2-68 LC2 standard by SGS, a world leading inspection, verification, testing and certification company. The test results showed minimal internal impact, which means that Trina Solar's photovoltaic panels can withstand and perform well in environments prone to severe sandstorms and strong winds.
Trina Solar's multi-crystalline panels also recently received PID Certification from PV Evolution Labs (PVEL). The certification program evaluates panels based on their ability to resist Potential Induced Degradation (PID). The test performed by PVEL subjected Trina Solar's PV modules to high-stress conditions of 85 degrees Celsius, 85% relative humidity and a voltage range of +/-1,000 volts for up to 600 hours. PVEL's certificate is the second PID certificate which Trina Solar modules have received, having been certified by TUV SUD earlier in 2012.
"Trina Solar is committed to producing reliable products that are able to function well in a variety of stressful environments," said Mr. Zhiguo Zhu, President of Trina Solar's Module Business Unit. "We will continue to work with the leading certification bodies to guarantee the quality of our products, which have garnered a first rate reputation in the marketplace."
About Trina Solar Limited
Trina Solar Limited (NYSE:TSL) is a leading manufacturer of high quality modules and has a long history as a solar PV pioneer since it was founded in 1997 as a system installation company. Trina Solar is one of the few PV manufacturers that have developed a vertically integrated business model, from the production of monocrystalline and multicrystalline silicon ingots, wafers and cells to the assembly of high quality modules. Trina Solar's products provide reliable and environmentally-friendly electric power for a growing variety of end-user applications worldwide. For further information, please visit Trina Solar's website at www.trinasolar.com.
About TUV NORD Group
With over 10,000 employees, TUV NORD Group is one of the largest technical service providers, offering its advisory, service and inspection expertise in over 70 countries throughout the world. Areas of activity include Industry Services, Mobility and Education and Training. TUV NORD Group occupies a unique position in the sector based on its work in the fields of raw materials and aerospace and is firmly committed to its guiding principle and watchword: "Making our world safer". www.tuev-nord.com.
About SGS (Societe Generale de Surveillance SA)
SGS is the world's leading inspection, verification, testing and certification company. SGS is recognized as the global benchmark for quality and integrity. With more than 70,000 employees, SGS operates a network of over 1,350 offices and laboratories around the world. www.sgs.com.
About PVEL
Headquartered in Berkeley, CA, PV Evolution Labs (www.pvel.com) was founded on the principle that understanding PV module performance and aging behavior through rigorous testing is fundamental to reducing risk in solar investments. For solar project development, PVEL provides unique data driven technical advisory services.
Featured Product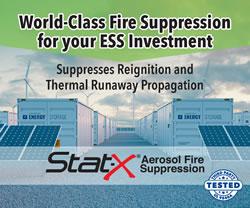 Stat-X® condensed aerosol fire suppression is a solution for energy storage systems (ESS) and battery energy storage systems (BESS) applications. Our Stat-X condensed aerosol fire extinguishing product was tested for efficacy in suppressing li-ion battery fires. It was found that the product successfully extinguished single and double cell battery fires. This testing was conducted in parallel with a large battery fire testing program on behalf of a large energy storage company.