Combined with an almost unequalled long life cycle and minimal degradation.
Dublin (Georgia), December 14, 2012. – MAGE SOLAR, a turn-key provider of optimally coordinated PV system solutions, announced today that it has released a special high-wattage version of its signature MAGE POWERTEC PLUS module.

The new 72-cell 285 W polycrystalline module delivers the proven performance strengths that all MAGE SOLAR modules feature but with the bigger footprint also reduces labor time and therefore installation costs. Just like other modules from the MAGE POWERTEC PLUS product family, the module distinguishes itself with zero to +5 Watts tolerance for maximum power generation, meaning that it always performs at least at name plate value and in most cases above. Besides a 10 year product guarantee, the MAGE SOLAR PV-module also guarantees 90% for 12 years and an outstanding 30 years for 80% of its power output.
"With the newest high-wattage module our customers continue to get the reliable power output MAGE POWERTEC PLUS modules have, but on a completely new performance level," says Joe Thomas, President and CEO of MAGE SOLAR USA. "Combined with an almost unequalled long life cycle and minimal degradation it underscores our commitment to offering the highest quality PV products and services across the entire MAGE SOLAR portfolio."
Featured Product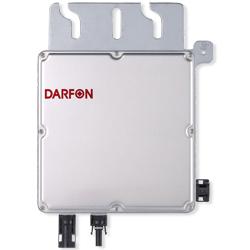 The Darfon G320 is the microinverter solution for today's high-power solar modules. The G320 handles 60- and 72-cell modules up to 350W DC and outputs up to 300W AC. The G320's 3-phase configuration accommodates the electrical distribution systems of most commercial buildings and to reduce, if not eliminate, the need for expensive transformers. The G320 comes in four voltage/phase configurations, so it can be installed in residential, commercial or utility applications.