October marks seventh consecutive monthly decrease in Chinese imports
WASHINGTON, D.C., Dec. 18, 2012 – U.S. imports of illegally subsidized and dumped crystalline silicon solar cells and panels from the People's Republic of China plummeted in October 2012, even as selling of solar technology revved up for the peak, year-end season, according to federal statistics. Total Chinese imports valued at $75 million in October, down from $112.7 million in September, represented a decline of about two-thirds from $213 million in October 2011, according to the U.S. Census Bureau's "U.S. Imports of Merchandise" database.

The year-over-year and month-over-month declines (see graphic for comparisons) reflect the market's growing recognition of the costs and risks associated with importing Chinese solar products in light of the recent imposition of anti-subsidy and anti-dumping duties on them, according to the Coalition for American Solar Manufacturing (CASM). The coalition of 228 U.S. employers of about 18,000 workers was founded by U.S. producers and joined mostly by downstream operators such as installation firms, who back sustainable, domestic solar manufacturing and free, open and fair competition.
Duties ranging from about 24 percent to more than 250 percent went into effect on Dec. 7. However, those tariff rates, based on import pricing and production costs in 2011, will not be finalized for at least a year, according to CASM. If the U.S. Department of Commerce determines that Chinese pricing fell more than equivalent market-economy production costs for those imports in 2012, final duty margins for imports landed after Dec. 7 will increase, CASM said.
The duties resulted from trade cases in which petitioner SolarWorld proved that the Chinese government has underwritten more than a dozen categories of illegal, export-oriented subsidy programs and its solar-manufacturing industry has sold at illegally dumped, or artificially low, prices in the U.S. market to seize market share, according to CASM. The campaign, the coalition said, has forced about 25 U.S. producers to shutter or downsize, putting thousands of employees out of work.
"Our industry's struggle to counter the Chinese government's drive to illegally dominate the U.S. solar market is gaining ground," said Gordon Brinser, president of SolarWorld Industries America Inc., based in Oregon. "Our mission was always to prevent China's government-sponsored, anti-competitive market distortions from derailing the healthy, competitive and clean development of the world solar industry. We are encouraged to see some progress in restoring fairness and competition to this market."
The value of all world solar cell and panel imports into the U.S. market decreased to $370 million in October 2012, down from $492 million the same month a year ago, according to the Census data. Imports from a few countries rose moderately. These countries include Malaysia ($154 million, up about 20 percent) and Taiwan ($34 million, up from $14.9 million). Malaysia has surpassed China as the leading source of U.S. solar imports, the data show.
CASM said it continues to work with U.S. Customs and Border Protection to prevent, detect and stop any circumvention of the import duties and to make sure that any circumventing merchandise is subject to duties in addition to the many penalties that also might apply.
The Coalition for American Solar Manufacturing, founded by seven companies that manufacture solar cells and panels in the United States, includes 228 employers of about 18,000 workers who have registered their support for CASM's case. The founding manufacturers have plants in nearly every region in the United States, including the Northwest and California, the Southwest, Midwest, Northeast and South and support several thousand U.S. manufacturing jobs. For details about CASM, go to www.americansolarmanufacturing.org; email media questions to media@americansolarmanufacturing.org; other questions or comments may be emailed to contact@americansolarmanufacturing.org.
Featured Product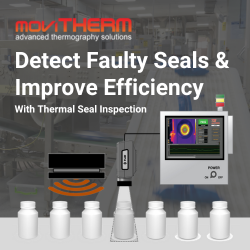 MoviTHERM's Thermal Seal Inspection (TSI) solution provides precise and reliable detection of defects in a variety of packaging types, including pouches, bags, blister packs, bottle caps, and more. By detecting defects in your packages, the TSI solution helps increase efficiency in your production line and ensures top-quality packaging is delivered to your customers every time. With state-of-the-art technology and an experienced team, MoviTHERM is dedicated to delivering accurate inspection solutions and peace of mind to its clients. Contact MoviTHERM today to learn more about their thermal seal inspection solution.