New ZigBee PRO Feature Now Supports Battery-Free Devices----- GreenPeak Green Power Product Achieves Golden Unit Status for the new ZigBee PRO Green Power Feature
19 December 2012 – Utrecht – The Netherlands - GreenPeak Technologies, a leading Smart Home RF-communication semiconductor company, today announced its support for the ZigBee PRO Green Power feature, which adds support for energy harvesting and battery-free applications as part of the ZigBee 2012 standard. GreenPeak also announces achieving ZigBee Certified and Golden Unit status for its Green Power product.

Green Power is the newest feature for the ZigBee PRO feature set. Green Power gives battery-free, energy-harvesting devices the ability to join ZigBee PRO 2012 networks. Without requiring batteries, these self-supporting devices typically generate (harvest) just enough power themselves to communicate a brief command. For example, a light switch without a battery harvests energy from flipping the switch on or off. This energy is captured to send the "on" or "off" command to the network to switch on or off the appropriate light. Hence, the light switch is a self-powered device.
"GreenPeak is very enthusiastic about the ZigBee Alliance announcing the ZigBee PRO Green Power feature for battery-free devices. Battery-free has been in GreenPeak's charter since its foundation. Today, Green Power creates autonomous sensors: install them and forget them." says Cees Links, founder and CEO of GreenPeak Technologies. "Standardizing the elimination of batteries is the next step needed to enable the Smart Home where light switches and sensors in and around the house are interconnected, but without the burden of keeping batteries charged. We are looking forward to contribute to making this maintenance-free and environmentally friendly initiative a success."
GreenPeak is one of the first ZigBee Alliance members to achieve the Golden Unit status and as Vice Chair of the Green Power working group, GreenPeak has been one of the driving forces and an influential contributor in establishing the ZigBee PRO Green Power feature. GreenPeak is leading the industry as the standard of excellence and is enabling its customers to quickly develop and easily deploy certified battery-free, self-powered solutions.
ZigBee: Control your world
ZigBee offers green and global wireless standards connecting the widest range of devices to work together intelligently and help you control your world. The ZigBee Alliance is an open, non- profit association of approximately 400 members driving development of innovative, reliable and easy-to-use ZigBee standards. The Alliance promotes worldwide adoption of ZigBee as the leading wirelessly networked, sensing and control standard for use in consumer, commercial and industrial areas. For more information, visit: www.ZigBee.org.
About GreenPeak Technologies
GreenPeak Technologies is a fabless semiconductor company and is a leader in ZigBee silicon solutions for the smart home.
GreenPeak is privately funded. It is headquartered in Utrecht, The Netherlands and has offices in Belgium, USA, Japan and Korea.
GreenPeak has won the prestigious 2012 Red Herring Top 100 Europe award and is recognized as a leader in developing new wireless technologies for consumer electronics and smart home applications, demonstrating rapid growth and adoption by major customers.
For more information, please visit www.greenpeak.com
Featured Product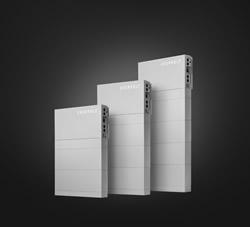 Renewable energy stored in an EVERVOLT home battery system is the perfect backup plan against an uncertain utility grid and weather events. Run key appliances longer and live life when the unexpected happens. EVERVOLT battery storage systems are covered by a complete 12-year warranty from Panasonic.