Growth of solar jobs and energy set Napoleon apart
NAPOLEAN, OHIO – With a backdrop of the Isofoton factory floor, the Solar Energy Industries Association® (SEIA®) today presented a plaque of recognition to Mayor Ronald Behm and the City of Napoleon as American Solar Champions.

With two major solar installations and a growing solar manufacturing facility embedded in a city of less than 10,000 people, Napoleon, Ohio is a hub for solar energy and job creation across the Buckeye State.
"Solar works for Ohio. Today we visited a factory manufacturing mounts for solar panels, toured a multi-megawatt solar field operated on behalf of the City of Napoleon, and now stand in a state-of-the-art panel manufacturing facility," said SEIA Vice President for External Affairs Tom Kimbis. "These facilities are concentrated within a few miles and represent the breadth, growth and potential of the U.S. solar industry in Ohio. The Solar Energy Industries Association is proud to name Mayor Ron Behm and the City of Napoleon as American Solar Champions."
At the award presentation, SEIA was joined by economic development and solar leaders from Napoleon and Henry County, including Napoleon City Manager and Chair of American Municipal Power, Inc. (AMP), Jon Bisher; Interim Director of the Community Improvement Corporation, Glenn Miller; Executive Director of the Henry County Chamber of Commerce, Joel Miller; Isofoton North America Chair, Michael Peck, and others committed to the economic growth and energy security provided by solar.
"The story of solar is jobs, American innovation, and a growing high-tech economy," continued Kimbis. "We are closing out a record year for the U.S. solar industry. Solar is clean, abundant, and affordable and powers both Ohio and America. We look forward to Ohio continuing its leadership in solar innovation, manufacturing, and deployment in 2013 and beyond."
About SEIA®:
Established in 1974, the Solar Energy Industries Association® is the national trade association of the U.S. solar energy industry. Through advocacy and education, SEIA and its 1,000 member companies are building a strong solar industry to power America. As the voice of the industry, SEIA works to make solar a mainstream and significant energy source by expanding markets, removing market barriers, strengthening the industry and educating the public on the benefits of solar energy. http://www.seia.org
Featured Product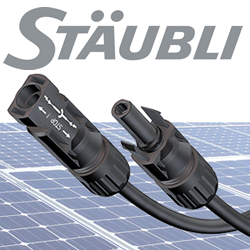 ​Stäubli Electrical Connectors are used on more than 300 GW, over 50% of the PV capacity worldwide. The MC4 family of UL and TUV listed products include connectors, in-line fuses, branch connectors, cable assembly and more.