Generator and rotor upgrade allows for up to 15 per cent increase in annual energy production
Hamburg, Germany, 2012-Dec-19

Siemens Energy has installed the prototype of a new four-megawatt (MW) wind turbine in Østerild, Denmark. The new wind turbine type is a designated SWT-4.0 and is based on the proven technology of the SWT-3.6, the world's most popular offshore wind turbine. The prototype 4.0 MW turbine is initially equipped with the standard 120 meter rotor of the 3.6 MW turbine but will shortly be upgraded with a 130 meter rotor using 63 meter long rotor blades. Following extensive testing the SWT-4.0-130 will be launched for sale with the 130 meter rotor diameter in spring 2013.
"Thanks to a generator and rotor upgrade, the new 4MW allows our customers a faster return on investment than our proven 3.6 MW wind turbine. We expect this product to further strengthen our leading role on the global offshore wind markets", says Henrik Stiesdal, Chief Technology Officer of the Wind Power Division. The SWT-4.0-130 extends the performance of the proven Siemens SWT-3.6 wind turbine, which is already established as the preferred offshore turbine type in the multi-megawatt class. So far, Siemens has installed almost 500 of its 3.6 MW wind turbines and has another 1,200 turbines in its order backlog.
The new Siemens SWT-4.0-130 makes use of several key technologies that are well-proven in offshore applications of the market-leading Siemens 3.6 MW turbine. The nacelle and tower structures are essentially upgraded 3.6 MW variants, and the blades are manufactured using the proven Siemens IntegralBlade® technology without glue joints. New technologies of the SWT-4.0-130 include the new aeroelastically tailored 63 meter (B63) blade featuring improved performance and reduced loads. Serial production of the SWT-4.0-130 is planned for 2015.
Wind Power is part of Siemens' Environmental Portfolio. In fiscal 2011, revenue from the Portfolio totaled about €30 billion, making Siemens one of the world's largest suppliers of ecofriendly technologies. In the same period, our products and solutions enabled customers to reduce their carbon dioxide (CO2) emissions by nearly 320 million tons, an amount equal to the total annual CO2 emissions of Berlin, Delhi, Hong Kong, Istanbul, London, New York, Singapore and Tokyo.
The Siemens Energy Sector is the world's leading supplier of a broad spectrum of products, services and solutions for power generation in thermal power plants and using renewables, power transmission in grids and for the extraction, processing and transport of oil and gas. In fiscal 2012 (ended September 30), the Energy Sector had revenues of EUR27.5 billion and received new orders totaling approximately EUR26.9 billion and posted a profit of EUR2.2 billion. On September 30, 2012, the Energy Sector had a work force of almost 86,000. Further information is available at: http://www.siemens.com/energy
Featured Product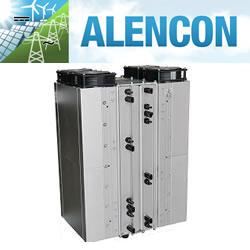 Alencon Systems is the premier manufacturer of high power, high voltage DC:DC optimizers for alternative energy applications including solar, battery energy storage, Microgrids, Fuel Cells and Electric Vehicle charging. Alencon's DC:DC converter offerings include the SPOT, BOSS and CUBE series DC:DC converters. The SPOT is a modular, uni-directional DC:DC solution ideal for solar applications. The BOSS is a modular, bi-directional unit for use with battery energy storage. The CUBE is a monolithic DC:DC converter which is available in both uni-directional and bi-directional modalities. Pictured above, is the Alencon SPOT.