With a commitment to competitive pricing on the solar industry's hottest and most advanced products, SimpleRay recently completed a partnership with Helios Solar Works to offer the company's advanced solar panels at competitive rates for its customers.
St. Paul, MN December 21, 2012

SimpleRay has long been committed to offering a superior value on solar products to customers, with excellent industry partnerships and financing offers that go above and beyond other online competitors. Today, the company is furthering its image as a leader in value and technology with an announced partnership with Helios Solar Works. The partnership will allow SimpleRay to sell the company's excellent lineup of panels to customers at prices that are competitive and offer superior value.
Helios Solar Works has long been known for producing some of the best solar panels in the industry, and the company generally produces three types of panels. All three types have found widespread adoption by consumers and businesses, and they include:
*Monocrystalline solar panels, which derive their energy from a single silicon crystal in each module on the panel itself. Monocrystalline solar panels are the oldest and most common form of solar panels, as well as the most efficient technology currently on the market.
*Polycrystalline solar panels, which derive their energy from multiple silicon crystals in each module on the panel. These panels are a bit newer, technology-wise, and they're a bit more affordable than the typical monocrystalline solar panel that customers have been using for decades.
*AC solar panels, which offer on-the-spot conversion of DC power to usable AC power. It's worth noting that virtually every solar panel turns solar energy into DC power, so having an instant, included converter to this technology enhances the convenience and usefulness of the panel itself after installation.
A Commitment to Excellent Value for Solar Panel Customers
The hallmark of SimpleRay's business since its founding in 2007 has been its commitment to competitive pricing on the most popular solar panel products and solar energy technologies. Because the company operates its business solely using its website, lower margins overall contribute to a greater ability to discount solar technologies and offer lower prices than many competing retail outlets.
SimpleRay's long-term commitment to value has helped numerous customers throughout the country adopt solar technology in an era when gas and electric energy prices are headed nowhere but up. With the partnership between SimpleRay and Helios Solar Works, customers will essentially be getting access to some of the most well-developed, high-quality solar panels currently on the market. SimpleRay looks forward to offering these innovative panels at prices that deliberately and dramatically undercut the competition.
A Victory for Green Technology and Solar Energy
SimpleRay as a company is committed to solar energy, and the exciting new partnership between itself and Helios Solar Works is an exciting one for solar technology. As new products become available, they'll immediately be offered to consumers through SimpleRay's website at industry-leading prices. Consumers should look forward to fast-paced development, sales, and other long-term benefits, as a result of this partnership between a leading manufacturer and a leading distributor of solar products.
About SimpleRay
SimpleRay was founded in 2007 as an exclusively online marketplace for products that help convert solar energy into electric power for homes and businesses across the country. The company has sought to form partnerships with the biggest and most well-respected names in the industry, offering competitive prices on the latest and highest-quality technology for consumers looking for everything from complete solar kits to mounts and racking.
About Helios Solar Works
A leader in solar panel development, Helios Solar Works is dedicated to manufacturing solar panels that work with both monocrystalline and polycrystalline architecture, as well as AC panels that offer on-the-spot conversion of DC power to AC power. The company is one of the most well-regarded names in panel production and enjoys a sterling reputation among consumers looking to convert to green sources of energy.
Share on Twitter
Featured Product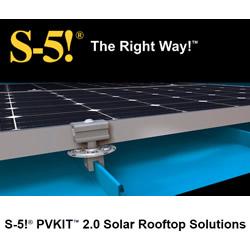 The concept of combining PV arrays with standing seam metal roofing is growing-for good reasons. Metal roofs have a life expectancy of more than 40 years. Shouldn't the mounting system last as long? With S-5! zero-penetration attachment technology and PVKIT 2.0, the solarized metal roof is the most sustainable system available -and without compromising roof warranties! PVKIT 2.0 is the also the best solution for attaching PV modules directly to any exposed fastener metal roof.