Rim of the World High School in Lake Arrowhead installs 4 URBAN GREEN ENERGY wind turbines. vertical-axis turbines to supply power and research data
WindSun Energy Systems along with Cal Dalke and Sons Construction Company have just completed a milestone project in small wind installations. Four URBAN GREEN ENERGY EDDY GT's were installed at Rim of the World High School in Lake Arrowhead California. As part of a research/study model, the 4 four vertical axis turbines are grid tied and monitored for power production along with a small solar array. Students can compare wind speeds to energy generation, solar output and irradiance and log daily, monthly and yearly productions.

The EDDY GT's are mounted on 7 meter towers (23') adjacent to the student parking lot and promise to be an eye-catching addition to the school. All electronics along with the turbines, braking systems and monitoring components are housed in an enclosed yard but allow close up inspection of the wind generators.
With an expected life of over 20 years, this renewable energy display will be providing power and a hands-on learning experience for decades for students and faculty alike.
contact WINDSUN ENERGY SYSTEMS for more information
Featured Product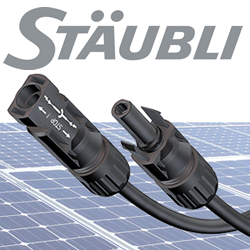 ​Stäubli Electrical Connectors are used on more than 300 GW, over 50% of the PV capacity worldwide. The MC4 family of UL and TUV listed products include connectors, in-line fuses, branch connectors, cable assembly and more.