Twelve NY-BEST members awarded State grants for advanced energy projects
(Albany, NEW YORK) The New York Battery and Energy Storage Technology Consortium (NY-BEST) today congratulated twelve of its members who were awarded a total of $14.4 million in New York State grant funding for advanced energy projects through the New York State Regional Economic Development Councils (REDC), established by Governor Andrew M. Cuomo.

"NY-BEST is proud to congratulate our members for their successful grant applications through the State Regional Economic Development Councils. These grants will provide resources needed to support research, development and manufacture of innovative energy solutions. More than $11 million of this funding will also specifically support the development and manufacture of energy storage technologies that are transforming the way we use energy. New York State is a leader in energy storage and these grants further reinforce the State's commitment to growing this industry," said Dr. William Acker, Executive Director of NY-BEST.
Six of the projects, awarded $11.8 million in funding, will specifically support energy storage technologies and their applications, including:
*Rochester Institute of Technology (Finger Lakes) – $5 million to equip research labs at the Golisano Institute of Sustainability with industry-focused test beds that include technologies such
as electric propulsion and micro-grids.
*BAE Systems and SUNY Binghamton (Southern Tier) - $2.1 million to support the Next Generation Energy Efficiency Technology, a collaboration with BAE Systems (BAE) and SUNY Binghamton to advance BAE's hybrid-electric propulsion system product lines.
*NOHMs Technologies (Finger Lakes) - $2.0 million for manufacturing and development of commercial lithium ion battery pouch cells at Eastman Business Park in Rochester, New York.
*Urban Electric Power (New York City) - $1.925 million to build a manufacturing facility to produce battery systems based on Nickel-Zinc flow-assisted battery technology from CUNY Energy Institute.
*Graphene Devices Ltd (Finger Lakes) - $400,000 to construct a facility at Eastman Business Park for the production of high technology materials that will be used in the manufacturing of energy storage devices.
*Custom Electronics, Inc. (Mohawk Valley) - $350,000 to expand Custom Electronics Inc. R&D, develop high voltage capacitors and develop battery energy storage devices.
An additional $2.6 million will support projects undertaken by five NY-BEST members that will advance research, industry collaboration and/or applications for advanced energy solutions. NY-BEST members receiving funding include: Rensselaer Polytechnic Institute ($200,000), College of Nanoscale Science & Engineering at UAlbany ($1.0 million), and Cornell University ($870,030) and Alfred University and SUNY Buffalo ($500,000 joint project.)
Last year, NY-BEST was awarded $3.5 million through the REDC toward the development of an energy storage product commercialization center at Eastman Business Park in Rochester.
"NY-BEST is delighted that the Commercialization Center we are now developing at Eastman Business Park is serving as a magnet and catalyst to growing the energy storage industry both in Rochester and across New York State. Our members are true leaders in advanced energy solutions and these grants reinforce that leadership role. " added Dr. Acker.
For more information about the regional economic development council grants, please visit http://regionalcouncils.ny.gov/
About NY-BEST
The New York Battery and Energy Storage Technology (NY-BEST) Consortium is a non-profit corporation established with support from the New York State Energy Research and Development Authority (NYSERDA) in 2010 to position New York State as a global leader in energy storage technology including applications in transportation, grid storage, and power electronics. An industry-led consortium with more than 100 members, NY-BEST's mission is to catalyze and grow the energy storage industry and establish New York State as a global leader in the energy storage industry. Visit us on the web at www.nybest.org. 
Featured Product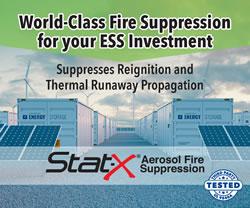 Stat-X® condensed aerosol fire suppression is a solution for energy storage systems (ESS) and battery energy storage systems (BESS) applications. Our Stat-X condensed aerosol fire extinguishing product was tested for efficacy in suppressing li-ion battery fires. It was found that the product successfully extinguished single and double cell battery fires. This testing was conducted in parallel with a large battery fire testing program on behalf of a large energy storage company.