CSO Energy is one of the leading service providers for technical and commercial management of renewable energy projects.
LEISNIG, Germany & FRUGES, France--CSO Energy now provides operations management services on 650MW of installed capacity across Germany, France and Poland.

2012 showed a strong growth in France, where about an additional 100MW of wind farms located in the East, North and West will be served under long term asset management contracts covering technical, commercial, financial and accounting services. Germany remains a core and growth came mainly from Bavaria with 36MW of new technical management contracts and a new office close to Nurnberg has been settled. Deployment in Poland happened with the first 6MW wind farm under management and a second 20MW-range wind farm coming shortly after.
M Weissflog, Director, informs: "The operations market is growing and as it matures requires increasingly more professional asset management services within the wind industry. CSO Energy has continued to hire and invest in IT infrastructure, monitoring, reporting and diagnosis tools and software".
Consultancy services also developed with a variety of assignments including direct sales of energy, support to regulatory changes, pre-commissioning inspections, post construction wind energy analysis, gearbox endoscopies providing project owners will valuable services at key moment of the project life cycle.
B Gilbert, Director, adds: "the technical, legal and financial competences available across the CSO affiliates are focused on delivering the best advice to customers for turbine performance optimization, contractual reviews, regulatory changes or components breakdowns."
CSO Energy is one of the leading service providers for technical and commercial management of renewable energy projects. The team at CSO Energy is represented in Germany at the locations Leisnig, Hamburg, Nuremberg and Perleberg. Other employees serve customers in France from the sites Fruges, Paris, Nantes and Eppeville..
Featured Product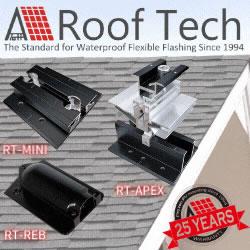 Now Roof Tech brings you the most innovative, watertight mounting systems ever developed for solar photovoltaic systems. Designed and manufactured exclusively for us by Japan's longtime leader in roofing technologies, Roof Tech products are 100% code-compliant and offer fast, simple installation and huge savings on shipping costs due to their compact, rail-less design. Learn more about our full line of versatile PV mounting solutions now available for residential installations. The next generation in rooftop solar mounting solutions."