Will deliver carbon-free electricity into the CAISO transmission system for the benefit of Pacific Gas and Electric Company
SAN DIEGO--EDF Renewable Energy, formerly enXco, today announced that the 102.5 megawatt Shiloh IV Wind Project, located in Solano County, California, became operational on December 21, 2012. The company further announced the close of financing for the project via a sale-leaseback transaction with Union Bank of California Leasing, Inc., a subsidiary of Union Bank.

The project, developed and owned by EDF Renewable Energy, will deliver carbon-free electricity into the CAISO transmission system for the benefit of Pacific Gas and Electric Company (NYSE: PCG) under a 25-year power purchase agreement.
Consisting of 50 REpower MM92 turbines, Shiloh IV generates clean electricity sufficient to supply approximately 40,000 average homes. It represents the largest operational wind repowering project in the country, whereby older wind technology installed in the late 1980s was replaced with modern technology, allowing for a ten-fold increase in clean electricity generated with 22 percent fewer wind turbines. EDF Renewable Services, formerly enXco Service Corporation, will provide operations and maintenance services.
"EDF Renewable Energy recognizes and appreciates the hard work of our partners, in particular Pacific Gas and Electric and Union Bank which has resulted in a wind project that offers important economic and environmental benefits to Solano County," commented Tristan Grimbert, President and CEO of EDF Renewable Energy. "The Shiloh IV project underscores the importance of technical innovation in the wind industry and its continued progress. As well it demonstrates our ability to identify the optimal financing solution for each individual project. We extend our appreciation to Union Bank for their commendable effort and collaboration, which marks the third financing arrangement between our companies in 2012."
EDF Renewable Energy has successfully closed more than $5 billion in financing facilities over the last 10 years and an unprecedented $1.6 billion in 2012 alone.
Lance Markowitz, Senior Vice President and Head of the Leasing and Asset Finance Division at Union Bank, stated, "Union Bank is extremely pleased to support EDF Renewable Energy through the structuring and underwriting of the Shiloh IV lease financing. The project is a testament to the EDF RE team given its efficient generation attractively situated between the Bay Area and Sacramento. We are particularly excited to be involved given that Shiloh IV serves such a key portion of Union Bank's footprint."
"Shiloh IV demonstrates our ongoing commitment to provide PG&E's customers with sustainable green power today and as California marches forward into a clean energy future," said Fong Wan, Senior Vice President of Energy Procurement for Pacific Gas and Electric Company. "PG&E delivers some of the cleanest energy in the nation to our customers, more than half of which comes from sources which are carbon free. We look forward to continuing to work with EDF Renewable Energy on vital renewable energy projects that will help push California closer to its 33 percent renewable energy goal."
About EDF Renewable Energy:
EDF Renewable Energy - formerly enXco - is a leading U.S. independent power producer with more than 25 years of expertise in the renewable industry, covering all range of services from project development, management to operations and maintenance. EDF Renewable Energy specializes in wind and solar photovoltaic with presence in other segments of the renewable energy market: biogas, biomass, hydro, marine energy and storage solutions. The company develops, constructs, operates and manages renewable energy projects throughout the United States for its own accord as well as for third parties. EDF Renewable Energy's portfolio consists of over 3.5 gigawatts of developed projects with 1.8 gigawatts of installed capacity. EDF Renewable Energy is the U.S. subsidiary of EDF Energies Nouvelles. EDF Energies Nouvelles is the renewable energy arm of the EDF group, the leading electricity company in the world. For more information visit: www.edf-re.com
About EDF Renewable Services:
EDF Renewable Services – formerly enXco Service Corporation – is the leading third-party provider of operations and maintenance services in North America. With 25 years of experience, EDF Renewable Services understands renewable energy facilities represent a substantial investment. The company takes an owner-operator approach to ensure maximum returns on the asset, full project value, and ongoing profitability for new and existing facilities. As part of a global organization with utility-scale wind and solar plants, the company brings depth of experience to every project. With more than 6 gigawatts of wind and solar under contract, EDF Renewable Services is the trusted leader in O&M. For more information visit: www.edf-renewable-services.com
Featured Product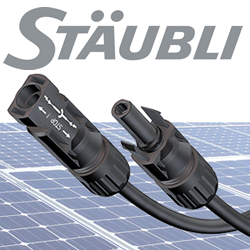 ​Stäubli Electrical Connectors are used on more than 300 GW, over 50% of the PV capacity worldwide. The MC4 family of UL and TUV listed products include connectors, in-line fuses, branch connectors, cable assembly and more.